TRUE BLUE EFFICIENCY.
TRUE BORN PERFORMANCE.
---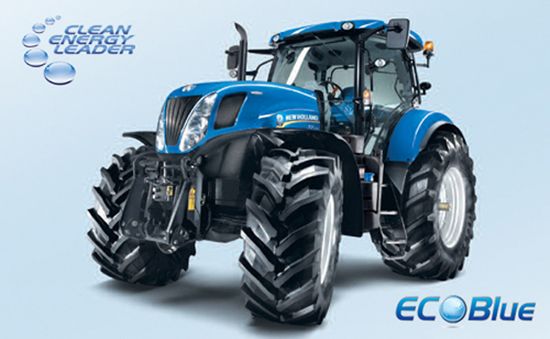 ---
TIER 4: FINALLY GOOD NEWS FOR YOU.
New Holland will meet the 2011 Tier 4A regulations for 130 to 560 kW machinery thanks to the Fiat Powertrain "Selective Catalytic Reduction" technology: the only technology which brings customers substantial benefits in terms of machine power, productivity and fuel economy whilst guaranteeing emissions compliance.
Tomorrow's technology you can already benefit from today.
SCR will be the only technology able to meet the final 2014 Tier 4B regulations. SCR technology is already established in commercial vehicle applications (like trucks).
Pioneering new ways to let you work more hectares faster using fewer litres, it's a mission we always accomplish thanks to the excellence and experience of our engine development partner Fiat Powertrain Technologies (FPT).
By the beginning of 2011, when Tier 4A emissions regulations came into force, New Holland will offer the industry's widest range of compliant products: 20 tractor and 9 combine models.
---
TOMORROW'S TECHNOLOGY YOU CAN ALREADY BENEFIT FROM TODAY.
SCR uses a catalyst to treat the NOx contained in the exhaust gas, transforming it into harmless water and nitrogen. To achieve this, it uses an after treatment system that injects AdBlue/Diesel Exhaust Fluid (DEF), a colourless and non-toxic mix of water and urea, in the exhaust.
NEW HOLLAND SCR ADVANTAGE
REFRESHING BREATHABILITY:
Thanks to the SCR technology and the elimination of any kind of gas recirculation, the engine `breathes' clean fresh air, instead of dirty hot recirculated `smog', to ensure optimal combustion conditions. The result: more powerful and more productive.
Nef Engine

Tier 3
(T7070)

Tier 4A SCR
(New T7.270)

IMPROVEMENT

Max Power Hp(CV)

251

269

+7%

Torque Nm

1025

1160

+13%

Torque Backup %

30

40

+33%

EPM band Hp (CV)

27

41

+52%
CONTROLLED POWER:
SCR engines will benefit from increased Engine Power Management (EPM) output of up to 51hp (new T7.220) for improved performance, increased engine responsiveness and fuel efficiency in all situations.
EXCEPTIONAL FUEL ECONOMY:
The T7000 range is already established as the benchmark by its users for its outstanding fuel economy. With Tier 4A, optimised combustion means more efficient power generation and up to 10% lower fuel consumption on Tier 4A SCR engines when compared to Tier 3 models.
Nef Engine

Tier 3
(T7070)

Tier 4A SCR
(New T7.270)*

IMPROVEMENT

Fuel consumption

289 g/kWh

261 g/kWh

- 10 %

*Based on DLG tests 12/2010
CONTINUOUS PAY-BACK:
The really good news about emission compliance is that this time it will improve your bottom line. On the new T7, each £1 spent on AdBlue will generate a £2.50 saving on your fuel bill.
The latest evolution of Basildon's multi-award winning tractors, the new T7 Series with Tier 4A SCR engines brings you higher levels of power, torque and productivity, together with the best ever results of fuel economy for its class of tractors. It's time to add blue efficiency to your business.