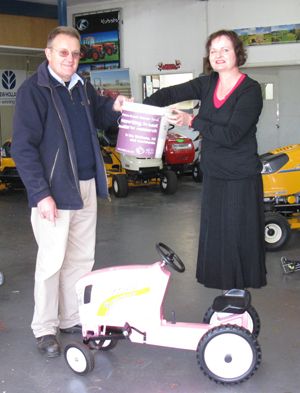 New Holland Supports the Waikato Breast Cancer Trust
In 2010 New Holland offered a pink pedal tractor on their stand at the National Fieldays®.
Entry was via gold coin donation, the donations went to the Waikato Breast Cancer Trust. The Trust's challenge with the help of others is to stop the disease.
New Holland saw donating the pink pedal tractor as a way of helping the Trust with the fight by raising as much money as possible during the four day National Agricultural Fieldays®.
The use of pink tractors (whether it's a kids pedal tractor or a real tractor as seen in Australia) is not a new concept for New Holland. Over the years New Holland have run many campaigns in support of Breast Cancer Awareness thoughout Australasia.
The winner of the 2010 pink pedal tractor was Nancy Petrie of Rangiora.
Pictured is Warren Longman (Parts Manager, NFMC Te Awamutu) and a representative from the Waikato Best Cancer Trust drawing the winning entry.