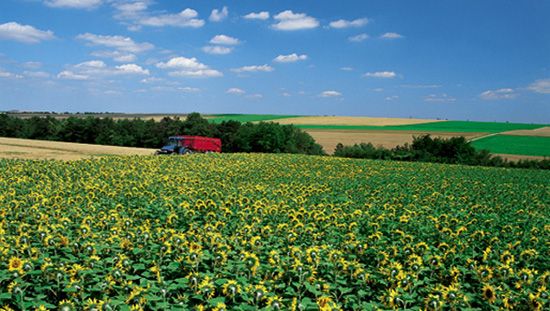 Our Vision
---
As the first agricultural equipment brand to fully support all the potential of biofuels in agriculture, New Holland is strongly committed to providing customers with the finest equipment that can safely be used with biofuels and for the production of biofuel crops. Today, all of our products equipped with a New Holland engine can run on 100% biodiesel.
We continue to invest in further testing, using new technologies and research in alternative fuels in order to make your future a better place to work and live in.
Our First Actions
Our first step to fulfil this commitment was taken in 2006, by supporting the B20 in all products.
In 2007, NH went a step further and allowed B100 on all products running with NH engines.
Environment
We know that the technology is evolving quickly. Second generation biofuels, jatropha, bioethanol are possible sources of energy that are being investigated and can become important alternatives to fossil fuels in the near future. New Holland is aware of these developments and, together with the support of the Fiat Group, is in a unique position to develop innovative products adapted to these new sources of energy.