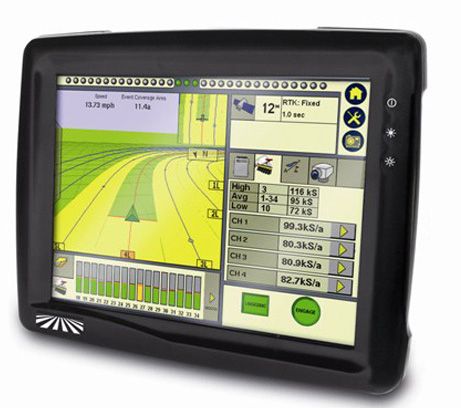 FM-1000 THE CUTTING EDGE OF TECHNOLOGY
---
The FM-1000™ brings you the best performance and reliability with the industry leading dual integrated GPS + GLONASS receivers. Capable of handling everything you need in guidance, steering, mapping at your fingertips the FM-1000™ gives you a choice of accuracy between 20 cm and 2.5 cm pass-to-pass and year-to-year.
Enhanced reliability
Machine and implement guidance
Implement monitoring
GUIDANCE OPTIONS
Manual
EZ-Steer® delivering a total package priced far less than the competition.
Integrated autoguidance on autoguidance factory ready machines or on retrofit package.
Implement control
EZ-Boom® compatible, also compatible with most of the rate controllers present on European implements. Single product control, precise application control with the single product variable rate technology (VRT) option to match the needs of specific areas of your fields.
Planter and Sprayer monitoring and control.
True Tracker, to steer the implement as well as tractor
GNSS DUAL RECEIVER
Two GPS + GLONASS receivers provide you with ultimate precision for both your tractor and the implement you are pulling when you need it most.
CHANGE YOUR PERSPECTIVE ON A 30.73cm COLOUR SCREEN
Best visibility from a bright and large screen. Toggle between plan and 3D views or zoom in/out with just a tap of your finger.
FREEFORM™ GUIDANCE PATTERN
Offers the ultimate in guidance flexibility, allowing you to work in different patterns and shapes that best fit your field's layout and contours.
VIRTUAL IGHTBAR OR EXTERNAL LIGHTBAR
A virtual lightbar gives you quick on-line feedback. Optional lightbar can be attached to the display or mounted separately.
FIELDFINDER TECHNOLOGY
Automatically locate stored fields as you drive near them.
4 PORTS
CAN/RS232/Video inputs.
INTERNAL RADIO OPTIONS
Integrated 900 MHz radio for RTK accuracy.
ONPATH® FILTER TECHNOLOGY
For improved pass-to-pass accuracy.
USB FLASH DRIVE
Simply transfer your day's coverage maps to your computer using a USB flash drive and easily print out coverage reports. Import/export fields and coverage maps.
GPS DATA OUTPUT
To supply GPS position data to your combine display for yield monitoring.
MAPPING