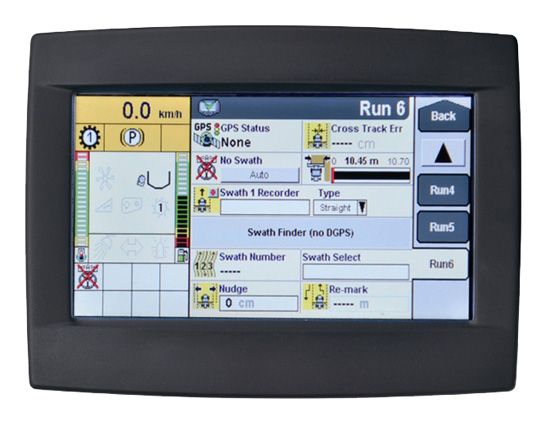 INTELLIVIEW III THE UNIVERSAL CROSS PLATFORM FOR NEW HOLLAND MACHINES
---
The Intelliview™ III can be used throughout a farming operation on your New Holland T6000 Range Command, T7 SWB/LWB,T7000, T8000, T8, T9000 or T9 tractors as well as CX8000 and CR9000. Available directly as a factory-fit option or from official New Holland dealers, the Intelliview™ III will communicate with and display machine function information in real time on just one screen.
GPS guidance
Machine functions control
Yield and moisture monitoring
GUIDANCE OPTIONS
Integrated autoguidance On autoguidance factory ready machines or on retrofit package.
Harvesting operations
Yield and moisture and grain temperature monitoring to provide a uniform, dry weight baseline yield measurement,
Automatic crop setting monitoring and control,
On-screen real-time mapping.
MAXIMUM OPERATOR COMFORT ON A 17.8CM TOUCH SCREEN DISPLAY
See where you are and choose information you want to view, monitor and control.
FULL ISOBUS INTEGRATION
The Intelliview™ III will serve as a virtual terminal for any ISO11783 compliant implement.
PORTABLE
Easily moves from your tractor to your combine.
MONITOR AND RECORD FIELD PERFORMANCE OPERATIONS
Area and distance, fuel usage, hectares per hour and engine efficiencies, slip and work rate.
IMPLEMENT FUNCTIONS AND CONTROLS
MULTI PATTERNS CONTROL
Controls multiple variations of curved and straight-line guidance.