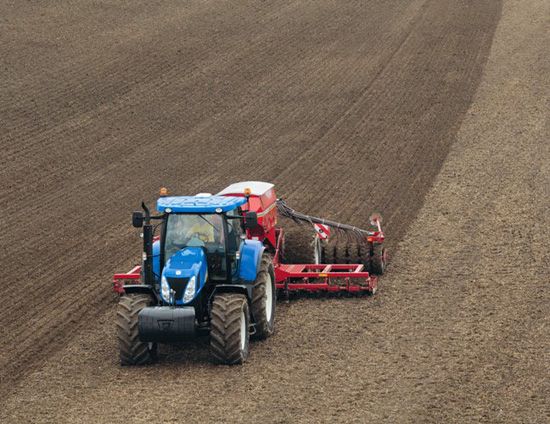 IMPLEMENT GUIDANCE AND RTK INCREASE YOUR ACCURACY AND YIELDS
---
Thanks to a DGPS antenna and T3™ terrain compensation technology mounted on the implement, the TrueGuide™ & TrueTracker™ systems keep your implement on a repeatable path on sloped fields with steep gradients.
The FM-1000 integrated display in the tractor communicates guidance information to the TrueTracker system, instantly adjusting implements such as tillage tools, strip tillers, drills and planters, cultivators, sprayers and harvesters to follow directly in the path of the tractor.
With repeatable accuracy the TrueTracker system improves seedbed and nutrient placement helping to enhance crop stands and yields.
Retrofit installation kits are compatible with all manufactures' implements.
TRUE GUIDE – IMPLEMENT CONTROL
The TrueGuide™ implement guidance system uses the existing Autopilot™ system to improve implement accuracy. There is no need to hang additional steering equipment on the implement just to get better control. Let the tractor guide the implement. Minimise the downdraft effect on severe hillsides. Let your Autopilot system pull the implement up the hill and hold the line. FM-1000 compatible.
TRUE TRACKER – TAKE FULL CONTROL
The TrueTracker™ system is an independent navigation system that works with the Autopilot system to provide you the highest level of accuracy.
The TrueTracker system independently steers the implement using one of many hydraulic solutions on a repeatable path even on extreme slopes and variable soils. Maintain accuracy on rolling terrain using T3™ terrain compensation technology mounted on the implement. FM-1000 compatible.