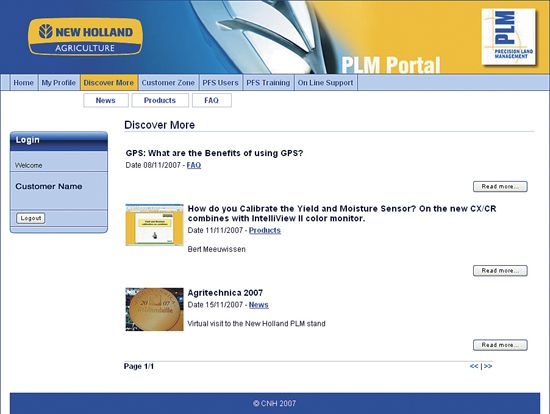 ---
PLM Portal
To support New Holland customers who have purchased Precision Farming and Auto Guidance products, a purpose built website called the PLM Portal has been created. The PLM Portal is available to all New Holland customers and can be accessed from the following web address: www.newhollandplm.com
Once you have signed into the website you can gain access to advanced information on all New Holland Precision Farming and Auto Guidance systems. For New Holland's Precision Farming software customers, a purpose built section of the website provides training videos and information for customer support. Please go to www.newholland.com/plm for further details.
PFS SOFTWARE - CONFIDENT USERS
Customers who have purchased a PFS Support Package will receive a special PFS key which will enable them to sign-up for training courses and access individual on-line support for the Precision Farming Desktop software.
A dedicated and specialised Support Company based in Australia will assist New Holland PFS customers by providing in season support and training on the use of the Precision Farming desktop software. This specialist support company will also provide on-line and/or telephone user assistance, furthermore this will provide updates and new information regarding satellite imagery, boundary maps, etc to get the optimum results from this powerful software package etc.