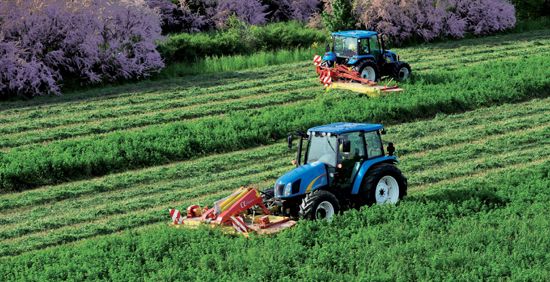 ---
T5000. A PERFECT MATCH BETWEEN PROVEN TECHNOLOGY AND MODERN ENGINEERING
Powered by New Holland NEF Tier III compliant intercooled engines, New Holland T5000 tractors combine proven engineering with the most up to date engines yet offered in this category of tractor, 86, 97 and 106hp(CV). T5000 offers a balance between proven design and modern technology.
The broad specification starts with a choice between two-wheel drive 30kph and four-wheel drive 40kph*, both with ROPS platform and cab models*. All T5000 models are fitted as standard with 24x24 Dual Command™ with Powershuttle and Power Clutch option.
On cab models, a bright interior is a new T5000 feature, all models benefiting from enhanced ergonomics to put the operator right at the heart of the tractor. For comfort, all-round visibility and ease of operation, T5000 tractors set new class standards. T5000. New Holland evolution keeps you ahead. *Market restrictions apply.
A SPECIFICATION TO MEET YOUR NEED
New Holland has long recognised the need to offer customers a broad choice within a tractor series. All T5000 models can be specified to suit the differing demands of livestock and smaller farm users through to large farm and contract operations. Customers looking for a T5000 class of tractor have a common demand for a smaller but still versatile unit. By offering a choice of transmission, hydraulic output, 2WD or 4WD drive and cab and ROPS variants, New Holland has a T5000 tractor with a specification to meet every need.