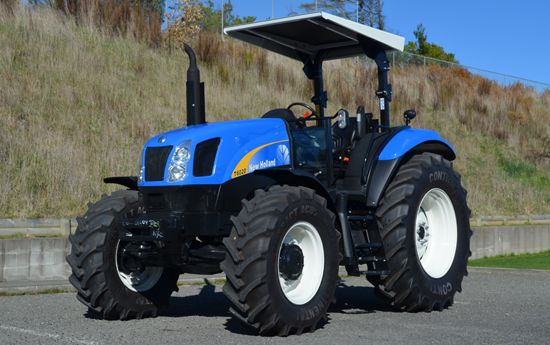 ---
T6000 ROPS. THE PERFECT BLEND OF THE MODERN AND THE AFFORDABLE
New Holland 112 and 126hp(CV) T6000 ROPS tractors are specified to meet the demands of livestock and mixed farming operations. Sharing the modern and stylish design of the T6000 Plus and T6000 Elite models, the ROPS range is offered with an engine, transmission and hydraulic package ideally suited to livestock users, with brilliant economy and versatility for yard work matched with all the comfort and power for tasks that can include mowing, top dressing and baling.
All ROPS tractors are powered by advanced two-valve engines with mechanical fuel injection. These quiet and frugal power units are designed to reach their operating temperatures quickly. This is important on a tractor expected to carry out stop and start work in winter.
The hydraulic system features a separate 40l/min steering circuit. Regardless of the demand for hydraulic power, the steering will retain its ease of operation. Proven New Holland Flexion Bar™ mechanical draft control with Lift-O-Matic™ is standard. Three rear and two mid-mount remote valves are available. A joystick, which is compatible with loaders, can be specified.
Both ROPS models are offered with New Holland's advanced Electro Command™ 16x16 semi-powershift transmission. This enables the operator to shift between eight speeds without using the clutch.
New Holland T6000 ROPS. Modern design, established values.
GREAT LOOKS ADD VALUE
New Holland styling offers more than great looks. The curved engine hood of T6000 tractors is slim for excellent forward visibility. The curvaceous fenders are easy to hose clean. The styled headlamps provide a broad spread of illumination.