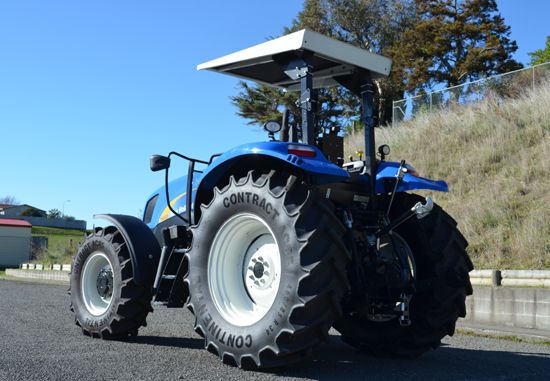 ---
A PERFECT COMBINATION OF POWER, PERFORMANCE AND TRACTION
T6000 ROPS tractors are powered by either a four-cylinder (T6020 ROPS) or six-cylinder (T6050 ROPS) engine. This specification is ideally suited to tractors that are not routinely working at full power or constant speeds.
T6000 ROPS tractors are fitted with the same advanced Electro Command™ transmission as the T6000 Plus tractors, featuring a 16x16 semi-powershift enabling the operator to shift up to eight speeds without using the clutch. This specification is ideal for operators doing more field or transport work.
These tractors are highly manoeuvrable thanks to a 55 degree turn angle, a narrow engine and design and no bulky structural frame. This delivers a turn radius as tight as 4.04m without brakes and excellent traction in adverse conditions.
T6000 - THE CLEAN ENERGY LEADER
T6000 ROPS tractors are factory approved to run on 20% B20 Biodiesel fuels. By fitting the Biodiesel engine kit and following a specific maintenance programme, the T6000 can also be run on 100% B100 Biodiesel fuels.
New Holland was the first agricultural manufacturer to fully endorse the use of Biodiesel in its power units. This follows extensive testing, which encompassed all aspects of engine performance including fuel efficiency, fuel pump and engine wear, cold temperature starting performance and influence upon service intervals. Contact your dealer for further details.
LIGHT AND MANOEUVRABLE
Both T6000 ROPS tractors have a dedicated steering pump. Supplying a generous 40l/min, this separate circuit helps ensure full steering power is available at all times. No matter how hard the tractor is working, the steering remains light and easy to use. This helps the operator to make fast lock to lock turns achieving a turn radius as tight as 4.04m without brakes.