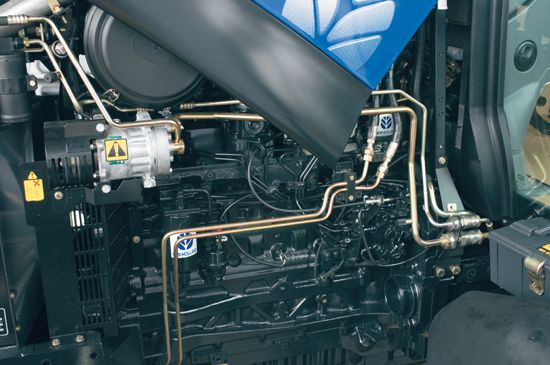 ---
OUTSTANDING ENGINES FOR EVERY APPLICATION
The T6000 Plus range is available with New Holland NEF four or six cylinder mechanical engines, with rated power outputs ranging from 112 to 141hp. T6000 tractors are powered to suit your specific needs, and the entire engine range has been engineered to meet stringent Tier III emissions regulations. If that wasn't enough, all New Holland tractors can run on 100% biodiesel. Contact your local authorised dealer for more information.
DEPENDABLE MECHANICAL ENGINES
Standard on Plus models, these engines feature two valves per cylinder with mechanical fuel injection. Maximum torque is available at very low operating speeds, making them ideal for yard and loader work. However, they also shine in the field, with the performance in reserve for demanding PTO applications, such as baling. Brilliant for all round versatility, these efficient engines can lower your operating costs, meaning more money in your pocket.
ENGINEERED TO REDUCE OPERATING COSTS
Advanced engineering design means lower maintenance demands. All T6000 tractors offer class-leading 600 hour service intervals using conventional oils without compromising longevity. Choose New Holland to save money, downtime and to protect the environment.