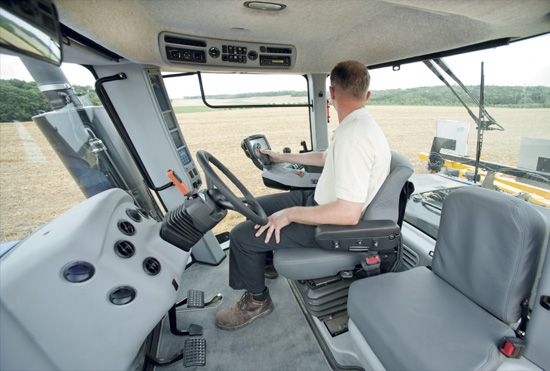 ---
CAB THAT WORKS WITH YOU, DAY IN, DAY OUT
Step into the spacious cab through the frameless door. Settle into the seat and rest your arm on the SideWinder™ II armrest. Activate the buttons on the CommandGrip™ handle and remote valve paddles. Swap through the menus on the IntelliView™ III touch screen monitor. Fire up the engine and feel its smooth quiet power. Welcome to New Holland.
SETTLE IN AND ENJOY THE RIDE
New Holland Comfort Ride™ cab suspension, offered on all T9 series tractors, is revolutionary. All four corners of the cab are suspended on spring and damper units with a sophisticated anti-sway system to ensure you get a smooth and stable ride. Captive pin mounts provide full roll over protection.
AUTO COMFORT™ SEAT
Operator comfort is a key New Holland priority. The advanced Auto Comfort™ seat automatically adjusts to the weight of the operator. Offering precision controlled damping, the seat automatically reacts to shock loads before they reach the operator.
SWIVEL FOR ULTIMATE COMFORT
Operators who extensively use large rear equipment will be able work in absolute comfort, thanks to the seat's 40° swivel angle. Moreover, the SideWinder™ II armrest moves with the seat, so the controls are always where you need them, at the tip of your fingers.
FROM DUSK TO DAWN
Cab roof, engine hood and fender work lights are easily controlled from a dedicated switch panel. A 360 degree lighting package supplies a combination of HID and halogen lights. Delayed lighting ensures that you can leave the tractor in safety before the lights are turned off.