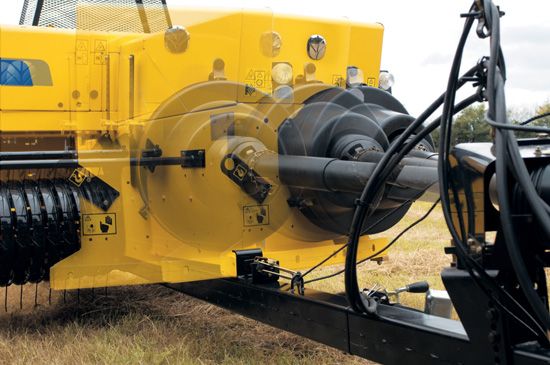 ---
CONFIDENCE IN THE POWER TRANSFER
Producing high quality bales day after day, season after season requires robust and reliable drive lines. The dimensions of the shafts, chains and gears as well as the quality of the steel, reflect New Holland craftsmanship and experience. To prevent the build-up of stress on the functional components, the overall baler construction includes a draw bar that is directly connected to the baler axle. A "power pivot support" for the three-joint PTO furthermore allows sharp turns with maximum safety.
NO FIELD OBSTRUCTIONS
Irregular, uneven windrows, sudden obstacles or accidental misuse do not keep the new BC5000 balers from continuing to operate. Loss of time is avoided by the adequate safety features that are built-in: shear bolt, overrun clutch and slip clutch on the flywheel, compression spring on the feeder fork and shear bolt on the knotter drive. The belt drive to the pick-up acts as a protection against overload and an overrun clutch allows easy and safe reversing.
FAST PREPARATION
Fast and sure changing from road position to working position is performed with the "hydro swing" drawbar. It uses the tractor hydraulics and makes switching fast and easy.