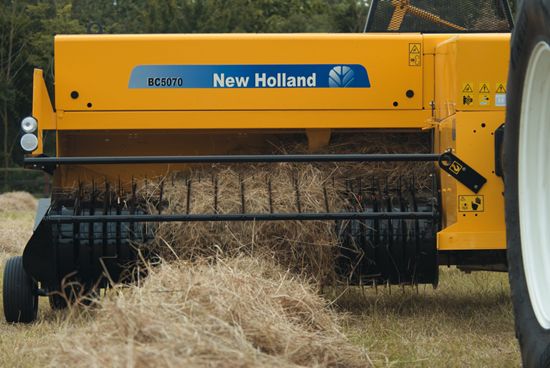 ---
CLEAN FIELDS
Efficient crop gathering of even the shortest of straw varieties from a wide windrow left behind a large combine harvester, or the smallest nutritious hay leaf that has been field-dried for days, is collected with ease using the efficient Super Sweep™ pick-up fitted to the BC5000 balers. Curved tines, close tine spacing, flanged tine guards, an effective floating wind-guard, all add to a swift clean pick-up action.
READY TO START AT ONCE
A swift pick-up lowering to start working immediately when entering into the field is made possible with the hydraulic pick-up lift. The pick-up guide wheel protects the pick-up tines in uneven field conditions and adjustable compression springs provide ideal pick-up floatation.
MAINTAINING A HIGH FIELD SPEED
Consistently high field speeds equate to high daily production, even in heavy and irregular windrows. The efficient pick-up on the BC5000 range allows for a high field speed while ensuring that all the hay or straw is collected, leaving a clean field behind.