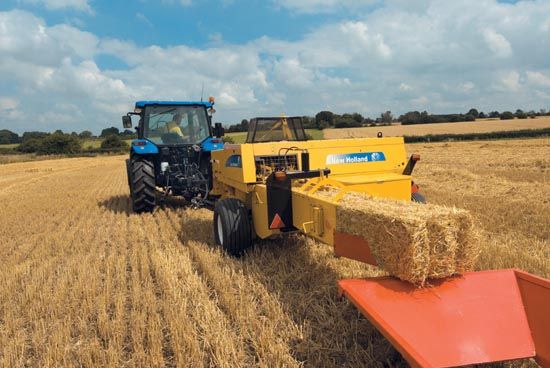 ---
EQUAL BALES MADE FOR EASY STACKING
Compact bales built-up by equal wads are easy to handle and keep their shape over a longer period. The exclusive New Holland rotary feeder system, using feeder rotors and a packer fork, is gentle on the crop and assures a steady crop flow and a quality bale. Bale length is consistent thanks to the ideal positioning of the metering wheel and adjusting that length is easily done by adjusting the length of the trip stop on the bale metering arm.
MAINTAINING CONSISTENT BALE DENSITY
Bale density is easily adjusted with manually operated tensioning springs which adapt the pressure on the upper and lower bale chamber rails. The hydroformatic density control, maintains the pressure on the crop being compressed in the bale chamber, independent of varying moisture conditions.
FIRM BALES, EXCELLENT APPEARANCE
Producing consistent firm bales is a major benefit of the new BC5000 balers. The long bale chamber, allowing for a long plunger stroke, combined with the high plunger speed, ensures a 1st class quality bale formation. Adjustable top and bottom bale chamber rails and adjustable bale case doors allow for a perfect setting of the required density.