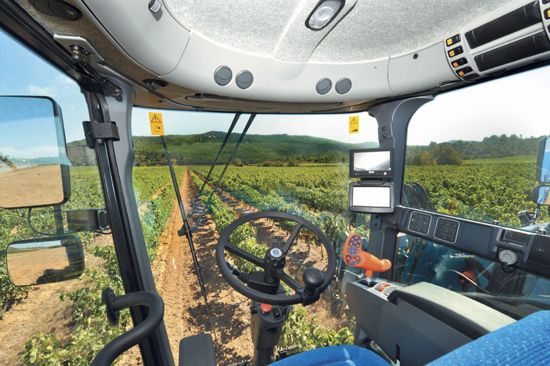 ---
QUIETER AND MORE COMFORTABLE
BRAUD 9000L harvester cabs are fully suspended and soundproofed for a smoother, more comfortable drive.
Pressurized, heated and air-conditioned, the cabs are designed to offer optimum comfort and protection during harvest, spraying and other operations.
In like for like conditions, noise levels are reduced by 3dBA compared to the previous harvester range.
INTELLIVIEW III. PLUG AND PLAY ISOBUS COMPATIBLE.
The IntelliviewTM III in-cab display has a touch screen interface to make setting machine functions faster and simpler.
Customizable pages can be set to suit specific operations.
The system offers full ISO BUS control to enable the IntelliView screen to be used as the interface to operate a range of compatible equipment. This includes sprayers and multifunction implements. This saves the need for separate controls and reduces the time to switch between jobs.
REMOTE CAMERA READY
The machines are fitted with two cameras and a third can be added to enhance visibility and view machine functions.
Images are displayed on a dedicated colour monitor that fits to the top of the IntelliView screen.
ARMREST
Integrated into the fully adjustable armrest, the new "all-in-one" multifunction lever controls travel speed and direction, manual levelling, the harvesting head and the control of multifunction implements.
Two sets of nine buttons to the right of the armrest can be allocated to control multifunction implements.
ELECTRIC MIRRORS
Newly designed electric mirrors, to include two additional wide angle mirrors, provide excellent all-round visibility.
The right mirror is mounted on an auto break-back arm. This allows the mirror to fold back on impact and then return to its pre-set position.