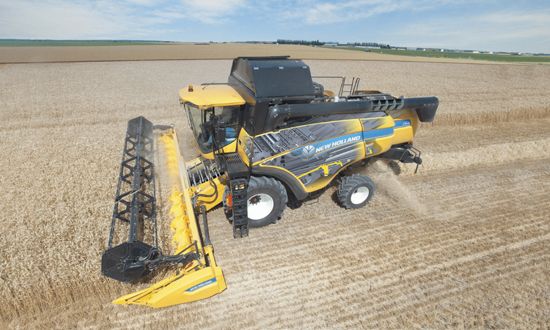 ---
FOUR-DRUM THRESHING AND SEPARATION INCREASES
New Holland CX5000 and CX6000 combine models benefit from the four-drum technology: threshing drum with Opti-Thresh™ system, beater, Rotary Separator, and Straw Flow™ beater. Extremely versatile, the system can be adapted to suit a wide variety of crops and different harvesting conditions with no compromise in kernel and straw quality or throughput.
RUBBING ON DEMAND:THE OPTI-THRESH™ SYSTEM
Adapting to grain maturity and yield can be done with the Opti-Thresh™ system, by repositioning the rear part of the concave. When closed the concave offers a full 121 degree of wrap. When the hinged top section is moved away from the drum, the rubbing action is less aggressive and the straw quality is improved. Changing the position of the Opti-Thresh™ concave section is achieved by moving a single handle, making it more convenient to use.
ULTIMATE PERFORMANCE THANKS TO THE MULTI-THRESH™ SYSTEM
Different cereal varieties or varying degrees of crop moisture can be addressed thanks to the Multi-Thresh™ system with two positions of the Rotary Separator concave. This adjustment in addition to the twin Rotary Separator speed range allows crop conditions to be perfectly matched.
OPTIONAL SECTIONAL CONCAVE: EASY TO MANAGE, QUICK TO CHANGE
Reducing the rebuilding time from 6 hours to 20 minutes! When switching from one crop to another, without removing the straw elevator, the following concave sections can be replaced.
SWITCHING FROM CEREALS TO RICE:THE UNIVERSAL DRUM
There is no need for a complete drum replacement when changing from cereals to rice, or vice versa: the slats on the universal drum can be replaced in no time.