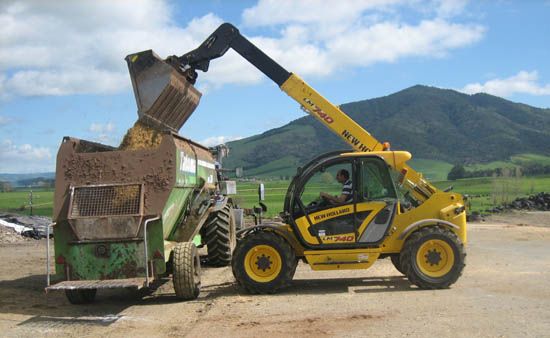 ---
When designing the LM telehandler series, New Holland engineers started with the cab design. Based on dealer and customer feedback and product clinics, operator comfort remains a key design priority, with research continuing to support the view that a comfortable operator is a productive operator. The 360° Vision cab has a number of features that set it apart from the competition. Featuring a fully glazed door and offering excellent visibility not just over the right three-quarters of the machine but also to the front and sides, the wide cab has a class leading internal volume.
BRILLIANT COMFORT
It is the small details that make LM so comfortable to operate. From the wide and easy access through to the ability to see all round the machine when working, the 360° Vision cab offers more room, visibility and comfort. To add comfort for road work an optional smooth ride control boom suspension can be fitted. All models are fitted with a light and easy to operate multi-function joystick that is integrated in the arm rest to proportionally control the main raise/lower and tilt/crowd functions. Units Specified with the multifunction proportional joystick have the added advantage of proportional extend and retract control. The cab is mounted on isolation blocks which, when combined with the three-point engine and transmission vibration damping system makes for a quiet 74dBA and vibration free working environment. The high airflow ventilation or optional air conditioning systems are designed to provide warmth in winter and cooling in summer.
BRILLIANT VISIBILITY - UP TO 113% LESS "BLIND SPOT"
A number of design features are combined to give an LM operator the excellent all-round visibility. The boom has a low pivot height and the way in which the bodywork and fenders are styled all help the operator see more. The spacious cab allows a relatively high seating position too, further increasing visibility to the front. Measurements have shown that blind spot area is up to 113% less on the new LM models versus its predecessor models.