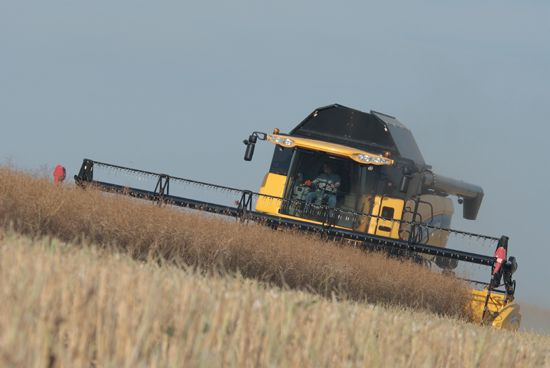 New Holland Wins AE50 Award for Combine Engineering Innovation
---
New Holland Agriculture has been honoured with a prestigious AE50 Award by the American Society of Agricultural and Biological Engineers (ASABE) for one of the most innovative product ideas to enter the market in 2011: the Opti-Fan™ automatic cleaning fan speed adjustment for New Holland combines.
New Holland's CX Series conventional combines and CR Series rotary combines offer a number of advanced features which enable them to maintain high productivity levels with low grain loss when working across slopes. One of the advanced features, the award-winning Opti-Fan™ system, takes combine performance on slopes to the next level with automatic compensation for continuous uphill or downhill gradients.
When driving downhill, material moves against gravity and therefore more slowly over the combine's grainpan and top sieve, causing it to remain longer in the cleaning shoe and the layer thickness to increase. More "material other than grain" (MOG) remains in the cleaning shoe as the set cleaning fan speed is insufficient to clear the crop. Driving uphill causes the material layer to decrease as it moves more quickly out of the shoe under gravity. The air flow from the fan is too high for the thin layer of material, which results in the material travelling too quickly over the top causing increased grain losses.
The Opti-Fan™ speed control system remedies this situation by sensing the combine's angle of ascent or descent and automatically adjusting the cleaning fan speed to compensate. The operator sets the level-field fan speed and the system reduces the fan speed when travelling uphill and increases it downhill to optimize the material layer thickness on the cleaning shoe. No extra work is required from the driver and losses are reduced and the grain sample is improved.
The AE50 Awards are based on new technology or the advancement of existing technology intended principally for producing, processing, storing, packaging or transporting agricultural, food and other biological products. To be nominated, a product must have the potential for broad impact on its area or industries. Only 50 products are chosen for the award each year.