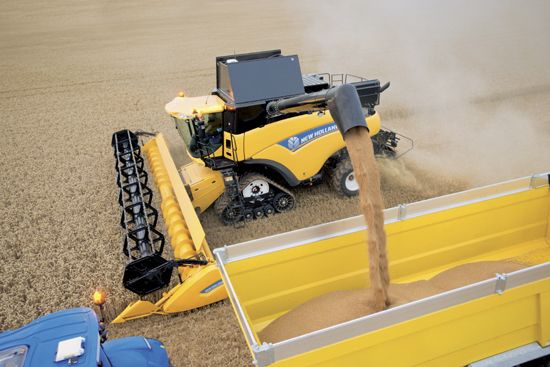 New Holland Introduces Ninth Generation CR Twin Rotor Combine
---
New Holland has introduced the ninth generation flagship CR range of Twin Rotor™ combines with the world's best grain sample and powered by Tier 4A ECOBlue™ SCR technology.
SmartTrax™ system for reduced compaction, increased stability and better traction
Flexible Twin Rotor™ solutions for guaranteed harvesting efficiency in all crops and conditions
Opti-Clean™ cleaning system enhances cleaning capacity to increase overall productivity
IntelliView™ IV extra-large colour touch screen monitor offers increased comfort
New four chain heavy duty feeder for enhanced throughput on wide frame models
Higher capacity grain tank, extended unloading auger and increased unloading speed for improved productivity and reduced downtime
Powerful Tier 4A compliant FPT Industrial Cursor engines deliver a fast response with reduced fuel consumption and a lower environmental impact
New combine model numbering to make performance level immediately obvious to customers
New Holland's CR range of combines have set a new benchmark in terms of grain and straw quality and productivity, and are set to significantly improve harvesting efficiency for large scale operations. The CR range, which made its first public appearance at Innovagri in France, guarantees industry-leading grain and straw quality, with a mere 0.1% grain crackage for improved profitability. The range has been engineered by design to offer ultimate flexibility in all crops, from grain through to maize and specialty crops including rice.
"The CR range is the culmination of more than a century of New Holland harvesting history, with over 105 years of continuous production and cutting edge development stemming from New Holland's Centre of Harvesting Excellence in Zedelgem, where today's CR is produced in Europe, and which can trace its self-propelled harvesting bloodline back over sixty years.
The new range of CR combines continues our in excess of three decades long tradition of pure Twin Rotor™ technology that has revolutionised the face of large-scale harvesting throughout the world. Almost 40,000 Twin Rotor™ combines have already been produced, which is testament to their continuing global appeal" stated Greg Moore, New Holland Product Specialist.
"This, the ninth generation of CR combines, represents the ultimate in harvesting technology. The new range continues to offer intelligent innovations that improves harvesting productivity and the operator experience such as the SmartTrax™ system and the IntelliView™ IV colour touch screen monitor."
Reduced compaction and improved traction
New Holland has developed the all-new SmartTrax™ system in-house to ensure that it is the perfect match for CR combines. The triangle structure has been designed to reduce ground pressure by up to an impressive 57%, when compared to wheeled machines, and to improve stability while maintaining the manoeuvrability of tyred combines.
The SmartTrax™ feature positive lug drive, which ensures maximum tractive force is transferred to the ground. The separate drive and tensioning wheels offer ultimate simplicity for improved mechanical efficiency, reliability and reduced parasitic losses. The automatic continuous belt tensioning system maintains ideal tension for maximum traction.
The SmartTrax™ system also features rubber-block suspension with three independent central rollers which enhance the ride both in the field and on the road at speeds of up to 30kph.
SmartTrax™ are available in two track widths: 24" (610mm), allowing a 3.5 metre transport width, and 30" (760mm), ideal for those working in the most extreme conditions. The triangular design ensures a positive contact with the soil and unsurpassed traction when working on the steepest slopes or in the muddiest conditions. The unique swivel mechanism can even lift the CR out of ruts when harvesting on boggy ground.
Flexible rotor solutions for guaranteed harvesting efficiency
The pure rotary breed CR combines feature New Holland Twin Rotor™ technology for unsurpassed grain quality, with a mere 0.1% cracked grain – the lowest in the entire industry. Furthermore the unique rotor design provides the best straw quality for baling. The Twin Rotor's spiral design propels the crop gently backwards to assist in effective threshing and separation. These rotors are perfect for extensive operations where maximum throughput in all conditions is required.
The CR is available in both narrow and wide frame versions. The 17" rotors are fitted to the narrow frame CR8070 and CR8080 models, and the heavy duty, high capacity 22" design are fitted to the wide frame CR9070, CR9080 and CR9090 models. The 17" S³ rotors have two intake flights, whereas the 22" variant offers three intake flights; both options feature a dedicated separation and threshing area that guarantees complete threshing and separation.
For operations that extensively harvest in damp conditions, the Twin Pitch 22" rotors are the default choice. Featuring 44 elements, they maintain aggressive separation in difficult harvesting conditions, where they can offer up to a 10% increase in capacity.
The CR range's rotors can be precision adjusted to cope with changing conditions. The optional adjustable rotor vanes can be varied to either accelerate or slow down the crop flow and regulate the time provided to thresh and separate the grain. Moreover, additional rasp bars and agitation pins can be configured to ensure the perfect threshing and separation processes whatever the crop.
Opti-Clean™ system enhances cleaning efficiency
The Opti-Clean™ system has been extended to the full CR range. It optimises the stroke and throwing angles in the cleaning system for enhanced cleaning efficiency. The grain pan, pre-sieves and top sieves operate independently to optimise the cascade for increased capacity. The longer sieve stroke and steep throwing angle keep more material airborne. The opposing motion of the grain pan and bottom sieve on one side to the pre-sieve and the top sieve on the other, reduces overall machine vibrations and increases operator comfort.
New Intelliview IV monitor
The IntelliView™ IV screen fitted to the CR range is a further evolution of the current touch screen. The IntelliView™ IV features increased screen size, maintaining the intuitive simplicity of today's screen. Furthermore, it is fully compatible with New Holland's complete range of Auto Guidance products: IntelliSteer™, fully integrated auto guidance, the SmartSteer™ system and row guidance can be programmed and managed via the screen. The operator can also adjust its position to suit their individual preferences.
Improved feeding performance with the new reinforced feeder
The CR's feeding system has been redesigned to further increase throughput capacity and to allow the fitment of wider headers. On wide frame models, the feeder now features four chains with connecting slats for improved crop flow when working in heavy or dense crops for improved throughput.
The feeder housing has also been further strengthened and benefits from a 25% increased lift capacity which offers compatibility with a larger range of headers
Improved grain handling
The grain handling system on the CR range has been further upgraded to match the increased capacity and throughput of the range. The grain tank on the CR9080 has been increased by 1000 litres to increase the interval between unloading for improved in-field productivity,
The unloading spout has been completely redesigned, and directs the crop in a forward and outward direction for better distribution and a longer unloading distance, which means taller, higher capacity trailers and chaser bins can be used.
In order to match their enhanced performance, the CR9070, CR9080 and CR9090 models can feature an optional unloading auger extension of 1.3 m to further increase unloading flexibility. Unloading speed has also increased by 15% which means the largest 12,500 litre grain tank can still be emptied in 100 seconds.
For prolonged operation in abrasive crops such as rice, the CR can be specified with the 'abrasive option'. The rotor covers, grain elevator, bubble-up auger and unloading auger are manufactured in extra heavy-duty materials to withstand prolonged operation in such crops.
In order to continually monitor grain quality, a convenient viewing window has been positioned in the cab just behind the operator. Consequently, the operator can immediately adjust machine parameters if required. For physical sampling, a grain sample flap can be accessed from the operator's platform.
Powerful Tier 4A compliant engines for improved productivity and environmental respect
The ECOBlue™ Selective Catalytic Reduction (SCR) system used to meet Tier 4A emissions standards was developed in partnership with FPT Industrial. A fundamental element of ECOBlue™ SCR technology is GoClear (also known as AdBlue or DEF), which is injected into the exhaust system to neutralise the harmful exhaust emissions produced during combustion. It turns them into water and nitrogen, both of which are naturally present in the environment.
The range's GoClear system has been designed for minimal operator input, and the 120 litre tank only needs to be filled every third diesel refill. It is located next to the existing diesel tank to ensure hassle-free filling. Operators are kept continually informed of GoClear levels via the IntelliView™ IV display.
New Holland authorised dealers will also stock products required to ensure conformity with new Tier 4A regulations, including GoClear, in containers of varying sizes, together with pumping equipment.
The SCR system offers significant performance advantages. The new CR range develops maximum harvesting power of between 449-571hp, which means operators will have the power on tap to tackle even the most demanding conditions and crops.
The range topping CR9080 and CR9090 models are fitted with Cursor 13 engines, the CR8080 and CR9070 boast the 9.8 litre Cursor 10 engine, and the CR8070 is equipped with the 8.7 litre Common Rail Cursor 9 engine.
Fuel consumption has been significantly reduced by up to 10% courtesy of both ECOBlue™ SCR technology, with a GoClear consumption of a maximum of just 5%, and the reduced engine speed of 1600rpm during road transport at speeds of up to 30kph.
Evolution in combine numbering
New Holland has applied its evolved numbering strategy to the CR range of combines to make their performance immediately obvious to customers. `CR' stands for Rotary Combine. The first digit, either an 8 or a 9 refers to the size of the Twin Rotors. 8 for 17" models and 9 for the high capacity 22" variants. The final two digits, either 70, 80 or 90 indicate its position within the range. A higher number means a more powerful combine.
Model

Rotor type

Maximum harvesting power
(kW/hp[CV]) ECE R120

Grain tank capacity
(litres)

Cleaning area under
wind control (m²)

CR8070

17"

330/449

9,500

5.40

CR8080

17"

360/490

11,500

5.40

CR9070

22"

360/490

11,500

6.54

CR9080

22"

380/517

11,500

6.54

CR9090

22"

420/571

12,500

6.54