New Holland Rustler™ Utility Vehicles Inspire 'Go-Anywhere, Do Anything' Confidence
---
New Holland announces a new product designed for the hardworking farmer, property owner or hard playing outdoor sports enthusiast in New Zealand: the Rustler™ utility vehicle.
Equally at home at work or play, Rustler™ utility vehicles combine rugged performance with an ultra-smooth ride for "go-anywhere, do-anything" confidence. No matter what you do, a New Holland Rustler can be built for you!
In the paddock or forest, over ruts, on tracks and through mud, Rustler utility vehicles get the job done. Whether hauling supplies, pulling trailers or transporting people and gear, Rustler utility vehicles can be configured to meet the customers need: offered in two-passenger or four-passenger versions, with petrol or diesel engines, transmitting power to the wheels through a wide range CVT transmission the Rustler™ offers 40kph top speed and 4x4 for increased traction and control.
Rustler utility vehicles are built tough: the frames of the 120 and 125 models are constructed of the same grade corrosion-resistant, lightweight aluminium used in jet fighters, while the 115 features a rugged steel frame and box construction. With total vehicle capacities of 420kg to 725kg, Rustler utility vehicles are designed to handle big loads with ease.
Backed by an industry-leading two year/2,000 hour limited warranty, the Rustler™ was designed with the customer in mind. All models feature high ground clearance with independent front suspension and on the Rustler 115 independent rear suspension to provide an exceptionally smooth, stable, comfortable ride no matter what type of terrain they're on. Rack and pinion steering with tilt adjustable steering wheel completes the package to ensure ease of handling.
New Holland Rustler utility vehicles are 4x4 for extra traction. On the 14hp 115 petrol model, simply engage the shift-on-demand four-wheel drive, while the larger models engage four-wheel drive automatically.
The 20hp 120 diesel model and 23hp 125 petrol models feature IntelliTrak™, an automatic, all-wheel-drive system that delivers the traction you need, when you need it. There are no manual levers to pull or buttons to push, the automatic system always transfers power to the wheel/s with the most traction to get through tough terrain.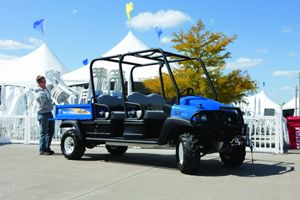 With extra operator leg room the Rustler™ provides ease of entry and exit due to the minimal protrusion of the front wheels into the foot well, while the tilt adjustable steering column ensures a more comfortable operation.
For safety, passengers are surrounded by certified roll-over protection system (ROPS) and retractable safety belts for all seat positions. Bench seats are standard with retractable belts across the range, the Rustler 120/125 utility vehilcles can be equipped with optional high-back bucket seats featuring a 13-position driver seat adjustment for all-day comfort. The weather protected glove box, multiple storage pockets and two console mounted cup holders complete the operator area.
New Holland provides a wide variety of factory and dealer-installed options and accessories to customize each Rustler to your requirements.