New Tier 4A Compliant T7 Range For Greater Farming Efficiency, Productivity and Flexibility
---
T7 range powered by FPT's 6.7 litre Nef SCR engine for Tier 4A compliance offers improved performance and efficiency
Four new standard wheelbase models added to this new line-up to further extend the range
New Holland's proven continuously variable Auto Command™ transmission for operating precision and fuel economy manufactured in house at Antwerp
Multi-award winning SideWinder™ II armrest for the ultimate in ergonomic operation and intuitive control of fully integrated auto-guidance
Class-leading power-to-weight ratio of 28.3 kg/hp
Segment-leading manoeuvrability and versatility
Impressive hydraulic flow of up to 140 litres/minute
New Holland's T7 range has been upgraded with Fiat Powertrain Technologies SCR 6.7 litre Nef engine for Tier 4A compliance. The new models range from 218 and 269 maximum Engine Power Management horsepower, replacing the previous five models.
Furthermore, this range has been extended with the addition of four standard wheelbase models - T7.170, T7.185, T7.200, T7.210 - producing between 171 and 212 maximum Engine Power Management horsepower. This further enhances the choice available to farmers looking for Auto Command™ productivity in a highly manoeuvrable tractor.
These additional models are perfect for both farmers and contracting operations, offering excellent performance and exceptional fuel efficiency. They are ideally suited to a wide range of farming tasks including field cultivation, high-speed transport and front loader activities. The T7's acclaimed ergonomic controls and family operating logic have been applied to the four additional models.
Tier 4A: greater productivity and lower operating costs with an improved environmental profile
The SCR technology used to meet the stringent Tier 4A emissions standards was developed in partnership with Fiat Powertrain Technologies, our engine development partner.
A fundamental element of the SCR system is AdBlue/DEF, the solution which is injected in the after-treatment system to neutralise the harmful exhaust emissions produced during combustion. It turns them into water and nitrogen, both of which are naturally present in the environment.
The T7's AdBlue/DEF system has been designed for minimal operator input, and only needs to be filled every other diesel refill. It is also conveniently located next to the pre-existing diesel tank to ensure hassle-free filling. Operators are kept continually informed of AdBlue/DEF levels courtesy of in-cab displays.
All New Holland authorised dealers will stock all products required to ensure conformity with new Tier 4A regulations, including AdBlue, in containers of varying sizes in order to suit individual farmers needs.
The SCR technology offers significant performance advantages. The 6.7 litre Nef engines benefit from increased Maximum Engine Power Management horsepowers of between 171-269 courtesy of New Holland's Engine Power Management system.
This technology continuously adjusts engine output to perfectly match actual working conditions by an intelligent sensing of the PTO, hydraulic and transmission loads. This ensures the optimum generation of power by the engine, which also always runs at the most efficient settings. It guarantees both optimised performance and optimal fuel consumption, and customers will have the most efficient power in reserve to maintain productivity in demanding operating conditions.
Moreover the new T7 range offers the best power-to-weight ratio available in the segment, with up to an impressive 28.3 kg/hp.
The introduction of this highly efficient engine and advanced after-treatment technology to the T7 range will offer customers up to a 10% reduction in fuel consumption. Moreover, the cost of purchasing AdBlue/DEF is more than offset by these fuel savings.
By opting for SCR technology on the T7 range, New Holland customers have invested in an emissions solution, and in a tractor that will pay back.
The four additional models produce rated powers of between 125hp and 165hp. Engine Power Management horsepowers of between 171hp on the T7.170, and up to 212hp on the T7.210 further enhance productivity.
The introduction of standard wheelbase models further extends the T7 power band and the functionality available to customers. As with all engines across the range, the 6.7 litre Nef is turbocharged and intercooled and features electronic Common Rail fuel injection.
Big tractor features
The four shorter wheelbase models offer a 2733mm wheelbase in a compact package for inherent agility, but also boast 'big' tractor features: they have been engineered by design to allow the fitment of tyres up to 650/65/R42. These tyres greatly increase the tyre footprint size and allow lower operating pressures for improved traction, ground clearance and reduced wheel slip.
Auto Command™ Transmission for maximum efficiency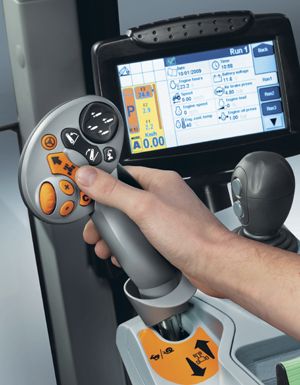 New Holland has perfectly tailored its proven Auto Command™ transmission for the four additional models, to perfectly match their dimensions and requirements; whereas the T7.220 – T7.270 will retain the acclaimed current transmission offering.
Developed at the Brand's in-house transmission centre in Antwerp, Belgium, these transmissions are at the heart of the tractor range, and in combination with the multi-function Command Grip™ handle, offer a smooth seamless application of power that is easy to control and is managed to guarantee optimal fuel efficiency.
The operator simply selects the desired working speed, and the Auto Command™ will adjust the engine speed and transmissions setting to achieve the most efficient performance.
Available in 40kph ECO and 50kph ECO options, customers can reach top speeds at lower engine speeds (1600rpm and 1700rpm respectively), ideal for business that undertake extensive transport activities. Speeds as low as 0.02kph are achievable, perfect for vegetable growers and other specialist applications.
Award-winning ergonomic control
The entire T7 range benefits from the multi-award winning SideWinder™ II armrest has been universally acclaimed and has set a new benchmark for ergonomic control in the agricultural industry. Tested for over 15,000 hours during the development process, every control has been exactly positioned where operators told us they wanted it.
Familiar to users of the T6000, T8, T9 and FR forage harvester ranges, the multifunction Command Grip™ force based handle enable the operator to smoothly control the tractor. The most frequently used function, including range shifting, shuttling and engaging auto guidance can all be carried out at the touch of a button.
The integrated IntelliView™ III colour touchscreen can be used to monitor and continuously adjust a whole host of operating parameters whilst on the move, as well as controlling ISOBUS equipment and the IntelliSteer™ integrated guidance solution.
All T7 tractors can be factory specified with integrated guidance which enables year on year absolute pass to pass accuracy of 1-2cm when using RTK signals. The monitor provides the interface for this system and its 178mm width makes following guidance paths even easier.
New Holland's acclaimed Horizon cab offers industry leading noise levels, high quality fit and finish together with a whole host of features to increase operator comfort to reduce fatigue and improve productivity.
Exceptional manoeuvrability and versatility
The SuperSteer™ front axle offers a best-in-class turning radius which is ideal for tight headland turn sequences, saving time and improving fuel efficiency.
These four standard wheelbase models benefit from a new in-house designed front linkage that has been specially developed for SuperSteer™ models to perfectly marry segment-leading manoeuvrability with impressive front lift performance. With a maximum lift capacity of up to 3263kg on models equipped with SuperSteer™, which increases to 3671kg on standard front axle models, even the heaviest front mounted implements can be used with ease.
The fully integrated design improves machine stability and enhances visibility of front mounted equipment for precision operation with no loss in manoeuvrability.
Improved PTO offering
The standard wheelbase models' driveline and transmission control allows the PTO to be operated at lower engine speed (-12%) for greater fuel economy. A ground speed PTO is also available, which perfectly matches tractor ground speed to PTO speed.
Model Specification
The new numbering on the T7 series makes the models performance immediately obvious, as the first digit refers to the range, the T7, and the numbers following the dot denote the maximum Engine Power Management horsepower.
Model

Max. EPM
hp

EPM band
hp

Rated power
hp

Max torque
Nm

Wheelbase
mm

T7.170

171

46

125

741

2733

T7.185

188

48

140

810

2733

T7.200

203

48

155

866

2733

T7.210

212

47

165

912

2733

T7.220

218

51

167

960

2884

T7.235

234

49

185

1019

2884

T7.250

250

50

200

1082

2884

T7.260

260

45

215

1120

2884

T7.270

269

41

228

1160

2884