New Holland's Extended Blue Power Range Now Includes the T7.210 "Golden Tractor for Design 2011" and Uses ECOBlue™ SCR Technology for Tier 4A Compliance
---
The T7070 Blue Power unlimited edition celebrating New Holland's double Tractor of the Year successes is now available as a standard offering in New Zealand for 2011 as the Tier 4A T7.270.
T7 range sets best in class fuel efficiency records regardless of the transmission: T7.270 Auto Command™ records 261 g/kWh and T7.260 Power Command™ achieves 259 g/kWh in the DLG PowerMix test.
T7.210 Blue Power edition launched at SIMA in celebration of the T7.210 Golden Tractor for Design 2011 award is available as a factory option.
T7.210 Blue Power with a segment leading power-to-weight ratio of 28.1kg/hp and R42 tyres: perfect for reducing soil compaction.
New Holland has further enlarged its Tier 4A compliant T7 range with two new, prestigious Blue Power models for improved productivity in a visually stunning package. The T7.210 and T7.270 Blue Power editions celebrate the 18-times awarded range and boast a dazzling one-off blue finish together with sumptuous chrome coloured elements.
Productive and efficient ECOBlue™ SCR technology
The range's 6.7 litre Nef engine benefits from ECOBlue™ Selective Catalytic Reduction (SCR) technology for Tier 4A compliance. The T7.270 and T7.260 set new fuel efficiency records for the segment in the Deutsche Landwirtschafts-Gesellschaft (DLG) PowerMix test. The T7.270 Auto Command consumed 261 g/kWh and the T7.260 Power Command a mere 259 g/kWh.
The Blue Power range is available with the New Holland Auto Command™ continuously variable transmission on the T7.210 and T7.270 models. Customers benefit from the multi award winning SideWinder™ II armrest with the CommandGrip™ multi function handle for intuitive control of the main tractor functions, together with an IntelliView™ III touchscreen monitor. All models can also be equipped with the New Holland IntelliSteer™ automatic guidance system.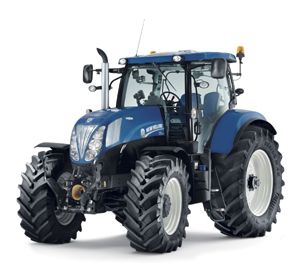 T7.210 Blue Power: continuing success celebrated at SIMA
The T7.210, which won the Golden Tractor for the Design™ 2011, took pride of place on the New Holland stand at the 2011 edition of the SIMA show in Paris, France.
Pierre Lahutte, Head of Global Tractor Management states: "This award-winning model is intended for users who prefer a compact machine, but do not want to forfeit high performance, maximum versatility, great productivity and low running costs. Moreover, it is a model which actually helps to improve our farming environment, by preserving the air quality, thanks to SCR technology, as well as the soil structure through reduced compaction.
The T7.210 has a segment-leading power-to-weight ratio of a mere 28.1 kg/hp and has been engineered by design for compatibility with tyres of up to size 650/65/R42. Together, these unique features considerably increase the tractor's footprint and guarantee decreased ground pressure to a mere 800g/m2, improving traction and ground clearance whilst reducing wheel slip and overall soil compaction. The Blue Power T7.210 is a perfect example of how tractor design can support agricultural sustainability by reducing fuel consumption, having the minimum effect on the environment and preserving soil structure."