It Will Be SCR Only!
New Holland Agriculture First Agricultural Manufacturer to Announce Clear Road Map to Tier 4B (Tier 4 Final)
---
New Holland will meet the 2014 Tier 4B (Tier 4 Final) regulations for 130 to 560 kW machinery with the exclusive use of the Fiat Powertrain "Selective Catalytic Reduction" technology, and without the need of any "Exhaust Gas Recirculation".
New Holland is the first manufacturer in the agricultural industry to establish a clear road map to achieve Tier 4B emission requirements.
FPT SCR technology is offering unmatched advantages ensuring the emissions compliance does not come at the expense of our customers:
- More power, more torque and more engine responsiveness
- Reduced fuel consumption
- Proven durability, as acknowledged by the 150,000 FPT SCR engines already in operation
- Contained cooling requirements for a perfect integration in agricultural machinery.
By early 2011, New Holland Agriculture will already have in production the industry's widest range of Tier 4A (Tier 4 Interim) compliant products: 20 tractor and six combine models.
During a joint press event held with Fiat Powertrain Technologies in Turin in September 2010, New Holland Agriculture announced that it will use only Selective Catalytic Reduction technology in the 130 to 560 kW power range to meet the 2014 Tier 4B Final regulations. New Holland is the first manufacturer to establish a clear road map towards the full achievement of the emissions regulations offering a cutting-edge, proven technology.
There is wide consensus in the engine industry that SCR is the technology of the future and the most suitable to comply with the Tier 4 emissions regulations because it separates the Engine Power Generation function from the Emissions Reduction function:
The engine is used for its primary purpose only, which is to generate maximum power from a quantity of combustible. This is best achieved thanks to optimum combustion conditions, which are not compromised by the integration of re-circulated exhaust gas. More power and more torque are directly available for agricultural applications.
As there is no recirculation, there is no need to cool any exhaust gas to press them back in the combustion chamber. Therefore, supplementary radiators impacting the vehicle architecture and complexity are not required. The whole architecture of the product is unaffected; the bonnet keeps an excellent forward visibility and compactness while allowing optimum manoeuvrability or the integration of front linkage and PTO options for example.
Less engine stress also means more durability and longer service intervals which directly provides lower running costs to the farmers.
Since the engine is only used for power generation at its optimum, the SCR technology allows significant fuel consumption reduction compared to Tier 3 machinery.
The SCR after treatment system does not interfere with engine performance, but actually improves it.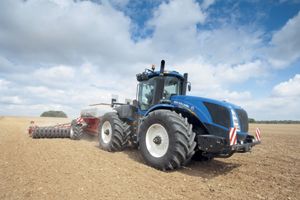 A major advantage for New Holland is deriving from the FPT experience in engine and SCR technology: Compared with other SCR systems, the FPT technology offers the highest NOx conversion efficiency rate on the market with over 95%. This is compatible with a substantial reduction of soot emissions as well as a structural containment of the fuel consumption.
With this announcement New Holland Agriculture once again affirms its "Clean Energy Leader" position.
"By the beginning of 2011, when Tier 4A emissions regulations come into force, New Holland will have a unique position in the market, offering 20 tractor and six combine models with FPT Tier 4A SCR engines," stated Franco Fusignani, President and Chief Executive Officer of New Holland Agriculture S.p.A. He continued: "In fact, we bring today to our customers, tomorrow's technology. The only technology which guarantees emissions compliance is not achieved at the expense of machine performance and our customers' productivity."