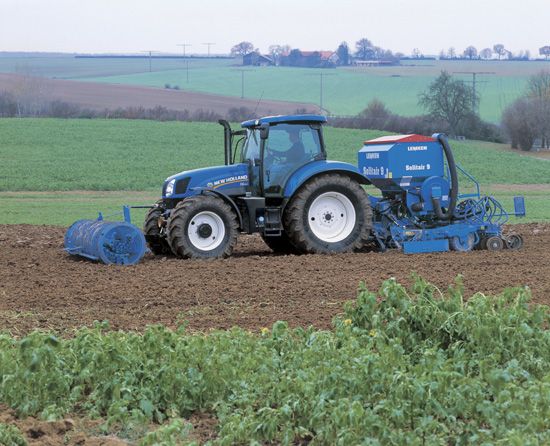 New Tier 4A Compliant T6 Combines ECOBlue Productivity and Efficiency with Renowned Versatility and Farming Flexibility
---
ECOBlue™ SCR Nef engines: superior performance, excellent transient load response and up to 10% reduced operating costs
Excellent power-to-weight ratio of 28,6 kg/hp: improved traction and reduced soil compaction
1000 Eco PTO: increased fuel efficiency
SuperSteer™ front linkage: enhanced manoeuvrability and super tight turning
Rich, flexible product offering: customers tailor-make their own tractors
The T6 range of tractors features ECOBlue™ SCR technology for Tier 4A compliance. The range comprises seven models: T6.120, T6.140, T6.150, T6.155, T6.160, T6.165 and T6.175 which produce between 119 – 175hp. The use of Engine Power Management ensures operations have the power on tap to complete all agricultural tasks with ease. The T6 range will become the tractor of choice for future-focused mixed farmers, as well as contractors and specialist agribusinesses.
New Holland is unique in this segment in offering a six cylinder engine with 115 rated horsepower, further extending the choice for arable farmers. Greg Moore, New Holland Product Specialist, explains, "The ECOBlue™ SCR technology on the T6 range will contribute to improving the productivity and profitability of our customers. Moreover, we have given every farmer and contractor the opportunity to custom specify their tractor to suit their own, individual needs."
ECOBlue™ SCR Nef engines: superior performance, excellent transient load response and up to 10% reduced operating costs
New Holland has tailored the ECOBlue™ SCR engine offering not only for the T6 range, but for the individual models themselves: customers can choose between a four-cylinder 4.5 litre Nef engine or a larger 6.7 litre six-cylinder variant. ECOBlue™ SCR technology offers significant performance advantages.
All models, except the entry-level T6.120, benefit from an increased Engine Power Management (EPM) band of up to 40hp. EPM technology is available in transport, PTO and now in hydraulic applications, and it continuously adjusts engine power output to perfectly match actual working conditions.
Intelligent sensing of the PTO, hydraulic and transmission loads ensures the optimum generation of power by the engine, which always runs at the most efficient settings.
ECOBlue™ SCR engines offer the ultimate in responsive power, with near instantaneous recovery times when placed under load for excellent in-field outputs. The engine's transient response has been enhanced courtesy of the uncompromised combustion cycles only ECOBlue™ SCR technology provides. The entire combustion cycle has been optimised for pure performance throughout the entire operating range, as the engine always breathes 100% clean fresh air independent of its output. The improved cooling characteristics result in lower parasitic losses and the efficient gas flow minimises back pressure for improved overall engine efficiency and performance.
The ECOBlue SCR engines fitted to the T6 range significantly improve on the job performance thanks to improved torque characteristics: maximum torque of 726 Nm and torque back up of up to 42%. In real terms, this means when the tractor is placed under load, the engine's reaction time is quicker, to prevent slow-down in demanding conditions.
Fuel consumption has been further optimised by the introduction of Engine Idle Speed Management (EISM) technology. Engine idle speed is reduced from 850 to 650 rpm when certain conditions apply, including, amongst others, when the operator is not present and when zero throttle is applied. Combined with the introduction of the highly efficient ECOBlue™ SCR engine, customers will benefit from up to a 10% reduction in operating costs.
Excellent power-to-weight ratio of 28.6 kg/hp: improved traction and reduced soil compaction
The entire range of T6 tractors continues to offer outstanding power-to-weight ratios as low as 28.6 kg/hp. Consequently farmers and contractors do not lug around unnecessary weight, and therefore they are able to significantly reduce fuel consumption and soil compaction. Moreover, the lower overall vehicle weight enables more flexible ballasting solutions to be adopted, when required, for improved in-field productivity.
1000 Eco PTO: increased fuel efficiency
The T6 range can now be equipped with a 540E/1000/1000E PTO offering, perfect for hay and forage contractors who routinely use the BB9000 range of big square balers. The 1000 Eco PTO is achieved at a mere 1893 engine rpm for significantly reduced fuel consumption which also contributes to overall lower vehicle emissions.
SuperSteer™ front linkage: enhanced manoeuvrability and super tight turning
The unique SuperSteer front linkage technology moves the front linkage in conjunction with the SuperSteer front axle for a super-tight 66° turning angle and a turning radius of a mere 4,05m. This technology is ideal for row crop applications and means more time working and less time is wasted during headland turns.
Rich, flexible product offering: customers tailor-make their own tractors
New Holland knows that no two farms are alike, and that each and every customer has very specific needs, therefore a 'zero constraints' approach has been adopted for the T6 configuration. All options can be selected on all tractors, with no limitations or pre-determined 'packages'.
Standard and low roof variants, new 80 litre/minute fixed hydraulic pump or 113 litre/minute closed centre load sensing hydraulic pump, the Electro Command™ transmission, together with four and six cylinder engines are all fully compatible with each other.
Furthermore, New Holland is unique in this segment in offering a six cylinder engine with 115 rated horsepower, extending the choice for open-field customers who undertake demanding draft applications. Therefore farmers and contractors can specify a bespoke tractor that perfectly matches their requirements.
The new T6 Series of tractors will be available alongside the current range of T6000 Plus and Elite tractors offered in New Zealand.
Model Specification
The new numbering on the T6 series makes the model's performance immediately obvious, as the first digit refers to the range, the T6, and the numbers following the dot denote the maximum Engine Power Management horsepower (or maximum power in the case of the T6.120). Model identification has been further simplified, as models ending in a '0' are four-cylinder units and those finishing with a '5' boast six-cylinder engines.
| | | | | | |
| --- | --- | --- | --- | --- | --- |
| Model | Rated hp | EPM band (hp) | Max. EPM hp | Engine cylinders | Max torque Nm |
| T6.120 | 110 | - | 121* | 4 | 590 |
| T6.140 | 110 | 33 | 143 | 4 | 590 |
| T6.150 | 121 | 33 | 154 | 4 | 634 |
| T6.155 | 116 | 38 | 154 | 6 | 632 |
| T6.160 | 131 | 32 | 163 | 4 | 676 |
| T6.165 | 125 | 40 | 165 | 6 | 682 |
| T6.175 | 140 | 35 | 175 | 6 | 726 |

*Maximum horsepower, as EPM functionality is not available on the T6.120
New Holland Agriculture's reputation is built on the success of our customers, cash crop producers, livestock farmers, contractors, vineyards, and grounds care professionals. They can count on the widest offering of innovative products and services: a full line of equipment, from tractors to harvesting, material handling equipment, complemented by tailored financial services from a specialist in agriculture. A highly professional global dealer network and New Holland's commitment to excellence guarantees the ultimate customer experience for every customer.