Small Tractor Dimensions - Big Tractor Features
---
Segment-leading operator comfort thanks to a flat floor and exceptionally spacious cab
'Command Arc' controls designed around the operator in virtual reality for ergonomic and intuitive operation
Efficient and productive FPT Industrial F5C engines
Tailored transmission offering with hydraulic PowerShuttle and creeper options
Up to 48 litres per minute hydraulic flow
New Holland's completely new T4 PowerStar range is set to redefine farming comfort in this fast expanding segment. The new range of tractors offers three models: the T4.55, T4.65 and T4.75, producing engine powers from 55 to 75 hp.
The new entry level T4.55, together with the entire line up, enhances the choice available to farmers, municipalities and other operators who are looking for a highly versatile tractor. It offers excellent manoeuvrability, ergonomic comfort and fuel efficiency.
The complete range is ideally suited to a wide range of both agricultural and non-agricultural tasks, including front loader activities, high speed transport and PTO work. The entire T4 PowerStar series benefits from New Holland's acclaimed ergonomic excellence and distinctive styling cues.
Absolute operator comfort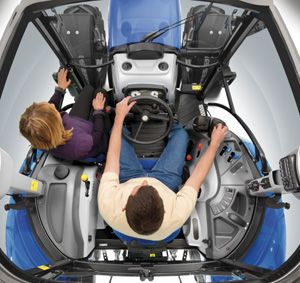 New Holland knows that operator comfort is a prerequisite for optimum productivity. As such, following extensive consultation with current users, the entire cab has been redesigned to offer unparalleled ergonomic excellence in this segment. The cab was designed around the operator using advanced virtual reality techniques, which has ensured that all controls fall perfectly to hand for operators of all shapes and sizes.
The principal controls have been placed to the right of the operator in an ergonomic 'Command Arc' to reduce fatigue and increase precision. This can be combined with an optional 15° swivel seat for those who extensively use rear mounted equipment. The clearly visible instrument cluster moves in conjunction with the fully tiltable steering column, which means operators will always have an unobstructed view of key operating parameters. It also facilitates easy entry and exit from the cab.
The T4 PowerStar benefits from a super flat floor for significantly improved comfort during long operating days and also boasts suspended pedals, which have been conveniently grouped to reduce fatigue.
Wide opening glass doors both enhance side visibility and enable swift and easy entry and exit during applications which require frequent 'in and out' of the cab such as feeding livestock. The cab also offers improved headroom as the air conditioning fans have been relocated under the floor.
The all-new dual zone air conditioning system means that operators can work in absolute comfort regardless of ambient temperature. Air flow can be precision directed through 10 individual vents, which all deliver even flow thanks to dual-zone technology. This achieves optimal total-body comfort, or in cases of extreme temperatures, super-fast defrosting of the windscreen. The B-pillar mounted controls fall perfectly to hand and can be intuitively adjusted while on the move.
The new cab offers industry-leading levels of visibility for loader work. The transparent, fully opening roof hatch guarantees perfect loader visibility throughout the entire operating range, even at maximum height. The roof hatch almost meets the front glass to reduce the obscured area to the lowest in the segment for improved precision during loader operation. Visibility is further enhanced by the large glazed areas offering an unobstructed view of front, rear and mid mounted equipment.
The T4 PowerStar cab offers operators a home away from home, with up to three power outlets for equipment monitors or a ready supply of electricity for personal equipment including mobile telephone chargers and MP3 players. The uniquely designed radio is fully integrated into the B pillar, this optimises the amount of space available to the operator. Furthermore, the full size instructors seat, equipped with seat belt, means that two adults can enjoy the PowerStar in ultimate comfort.
Economical engines for precision performance
The T4.55, T4.65 and T4.75 models will boast FPT Industrial's F5C mechanical injection engine. This 3.2 litre power plant boasts two valves per cylinder and offers maximum torque of up to 310 Nm, for the most demanding applications. This engine has already been used for over three years in the current T4000 range and speciality series and is renowned for its fuel efficiency and reliability.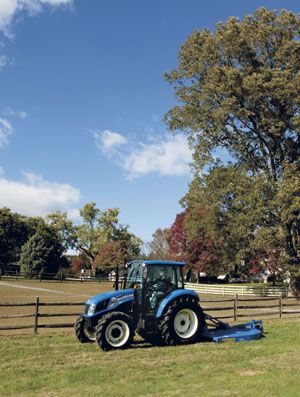 Together with industry-leading 500-hour service intervals, the engine will use Tier 3 technology at launch to meet current emissions regulations. Overall vehicle efficiency is further enhanced with a 540 eco PTO option. This enables the engine to run at a lower working speed for reduced fuel consumption.
Tailored transmission offering
The traditional 12 x 12 standard transmission offering is available throughout the entire range and is enhanced with the addition of the hydraulic shuttle. This steering column mounted lever can be operated without removing the hand from the steering wheel, enhancing safety and improving loader productivity.
An optional 20 x 20 creeper variant is available for T4.55, T4.65 and T4.75 models, with speeds as low as 0.108km/h - ideal for specialist activities and precision applications such as seeding.
The transmission controls will be familiar to users of New Holland's range of larger tractors: they are situated to the right of the operator. All gear changes can be carried out from the comfort of the seat, without the need to stretch and reach, and enables the operator to swiftly switch from the steering wheel to the lever for the ultimate in ergonomic operation and safety.
Fully integrated front loader controls
Loader operation and productivity has been improved with the addition of an integrated joystick. This dedicated ergonomic feature provides operators with precision control of a front loader, or other specialist mid-mounted equipment, from the comfort of their seat, without the need to stretch and twist their arms and wrists.
Precision hydraulics
Up to three hydraulic remotes are available on the T4 PowerStar range and offer standard flow of up to 48 litres/minute. This ensures the required hydraulic performance even when carrying out the most demanding applications, including front loader and hay and forage applications. These remotes are located on the 'Command Arc' for ergonomic and intuitive operation.
ROPS platform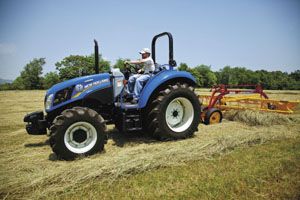 The new T4 PowerStar range is available in both cabbed and ROPS variants. The ROPS platform shares the same ergonomic control layout as the cabbed version and boasts an identical flat floor and fully tiltable steering column. However, this model has been engineered by design with specific trim, fenders and noise protection to enhance the operator's experience.
The ROPS version can also be specified with FOPS (Fall On Protection System), to offer users the ultimate in peace of mind when operating with loaders and in enclosed environments where they are at risk of falling objects.
Striking New Holland styling
The striking T4 PowerStar styling is reminiscent of the award winning T7 range. Key New Holland styling cues have been integrated into the overall design, including cats eye front lights and distinctive oval front and rear work lights to guarantee impressive visibility. They have been combined with the brand's signature sloping nose for unobstructed forward visibility.
Attention to detail has been lavished on the model's logo itself, as the PowerStar badge itself is reminiscent of that of the multi award winning T7 Auto Command.
| | | | |
| --- | --- | --- | --- |
| Model | Peak Hp (kW) @ 2300 rpm | Max torque Nm @ 1250 rpm | Torque rise % |
| T4.55 | 55 (41) | 240 | 41 |
| T4.65 | 64 (48) | 275 | 38 |
| T4.75 | 74 (55) | 310 | 36 |
New Holland Agriculture's reputation is built on the success of our customers, cash crop producers, livestock farmers, contractors, vineyards, or groundscare professionals. They can count on the widest offering of innovative products and services: a full line of equipment, from tractors to harvesting, material handling equipment, complemented by tailored financial services from a specialist in agriculture. A highly professional global dealer network and New Holland's commitment to excellence guarantees the ultimate customer experience for every customer.