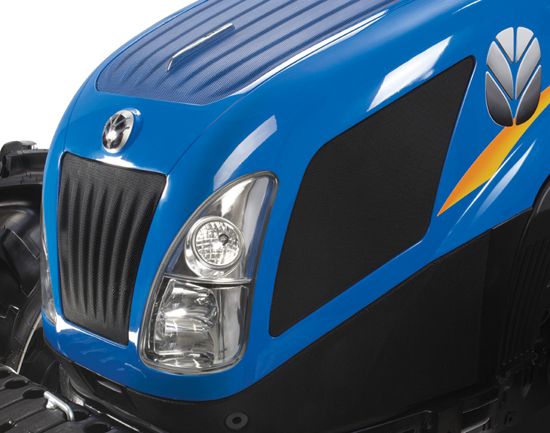 ADVANCED FEATURES, OUTSTANDING COMFORT: FIVE STAR TRACTOR EVOLUTION
---
FUEL EFFICIENCY THROUGH ADVANCED ENGINE TECHNOLOGY
The new TD5 range features an upgraded, brand new 8000 Series engine, offering you both greater power and excellent combustion efficiency. This powerful new Tier 3 engine brings out the maximum in tractor performance while at the same time boasting lower fuel consumption and minimized exhaust emissions.
POWER WITH A NEW RANGE TOPPING 110HP MODEL
The new TD5 Range features a new class-leading, range topping 110hp model. Packed into a light, robust and indestructible driveline, it offers an entirely new level of power and performance.
COMFORT WITH NEW VISIONVIEW™ CAB
Luxury turns a corner with this spacious, all new VisionView™ cab. Featuring Improved 360- degree visibility, greatly reduced noise levels and ergonomically redesigned controls, the new TD5 features unrivalled premium operator comfort.
VERSATILITY WITH NEW POWER SHUTTLE TRANSMISSION
A special feature offered on the TD5 Range is the new Powershuttle, which are perfect for precision loader work. This productivity enhancing feature is perfect for livestock applications, offering silky smooth direction changes and increased productivity.