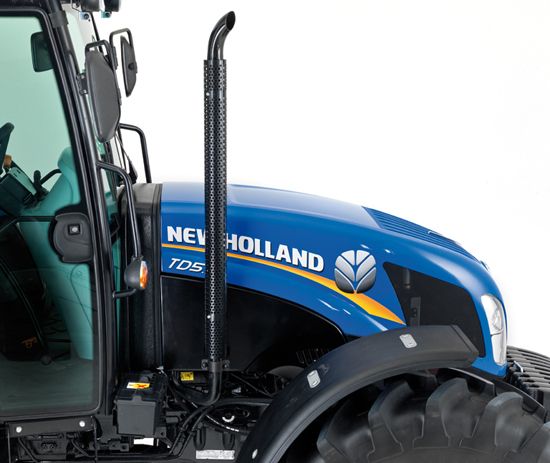 FUEL EFFICIENCY THROUGH ADVANCED ENGINE TECHNOLOGY
---
The entire TD5 range is powered by new, Tier 3 compliant 8000 series turbocharged engines. Improved to deliver more power, more torque and less fuel consumption, these proven, smooth running and quiet mechanical engines have been specifically tailored to not only the TD5 range, but to each individual model based on its specific usage profile. Throw in reliable and robust operation and you've got power all sewn up.
UP TO 30% TORQUE INCREASE
New TD5 tractors feature torque increases of up to 30% across the range. A higher torque value enables the tractor and its implements to keep the same speed regardless of the situation. This means an easier to drive machine with less gear changes and a job done quicker.
A RANGE OF POWER
The model line-up features a brand new, range topping model that develops maximum output of 110hp, so you know that you've always got the power on tap to keep you going. Maximum torque is obtained at a mere 1300rpm. So what? 1300rpm means greater engine flexibility, increased efficiency for lower fuel bills and quieter running. It's a win-win solution.
NEW DRY AIR FILTER
Requiring half the maintenance than the current filter, the new dry air filter features a bigger filtration area and less restriction than on a traditional air filter. A warning light on the instrument cluster indicates when the filter needs to be changed: again 600 hours. And thanks to the easy access and intuitive 4-clips mounting, the filter changing is a matter of few minutes.