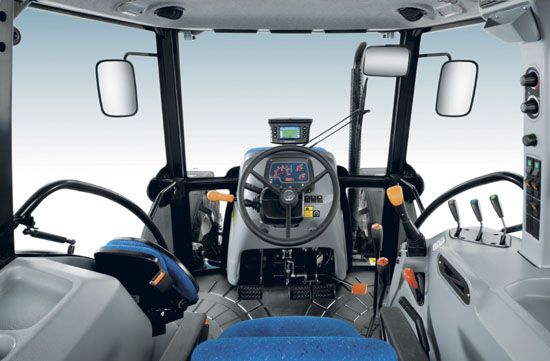 COMFORT WITH NEW VISIONVIEW CAB
---
A PERFECT VIEW OF YOUR FARM
Front. Back. Side to side. Top to Bottom. The 5.5 m2 of glass gives you a 360° crystal clear view to make every pass and every mile count. Improved visibility means a higher degree of operating precision; that's why New Holland developed the high visibility roof panel. This handy skylight offers perfect loader visibility at full extension without the need to crane your neck. Even when the rain is lashing down, you'll have a perfect view of the road or field ahead courtesy of the parallel front windscreen wiper.
WORKING IN THE QUIET ZONE
Thanks to the new more quiet engine, improved sound insulation and new materials, noise level inside the cab has been reduced from 82.5dB(A) to 79.5dB(A), while noise perception has been cut by 50%. New TD5: listen only to the sound of success.
SPACE. COMFORT. ADJUSTMENT.
Step up into the VisionView™ cab and enjoy the operating environment that has been built to increase your productivity. Precision adjust the steering column from the comfort of your natural driving position by depressing the dedicated floor mounted pedal. The super-flat floor means you can put your feet just where you want and makes keeping the cab clean even easier. This little big cab offers acres of space for heightened comfort during long working days. Just in case you want to leave, both the extra-wide opening left and right doors guarantee easy access when feeding cattle in narrow sheds.
DAY LONG COMFORT
The deluxe air suspension seat features a fully integrated armrest for day long comfort. There is also ample space for a full size instructor seat with seatbelt. Go on, share the TD5 fun! The ROPS version features a comfortable vinyl operator and instructor seat.
INTEGRATED LIGHTING PACKAGE
A full range of fully integrated work lights can be angled to suit any application. Shedding a broad spread of light, perfect for evening cultivation, the rear work lights are integrated into the redesigned roof for even easier access to low sheds and when working in areas of overhanging foliage. The intuitive controls are located on the B pillar.