New Holland Invests in the Future of Harvesting at the Extended Customer Centre in Zedelgem, Belgium
---
New Holland has unveiled the extended Customer Centre at its Centre of Harvesting Excellence in Zedelgem, Belgium, further cementing its commitment to the global harvesting sector and providing a full harvesting immersion for visitors.
This facility will act as a focal point for New Holland for European and international customers, and represents the distillation of an illustrious harvesting heritage whilst celebrating cutting-edge technology.
Zedelgem, Belgium: New Holland's Centre of Harvesting Excellence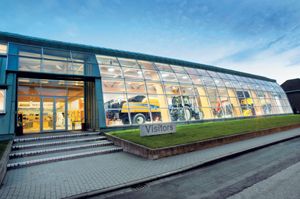 Zedelgem is the ancestral home of New Holland harvesting products, with over a century of history punctuated by harvesting milestones that have changed how farmers across the world harvest today.
The state-of-the-art customer centre has been extended to an impressive 3000 square metres and will welcome over 5,000 visitors annually. This bespoke facility is nestled right beside the production plant and is characterised by clean sweeping lines, reminiscent of the industry-leading harvesters themselves, and expanses of glass that flood the entire facility with light.
The Customer Centre offers a tailored customer experience with a differentiated visits programme to suit individual visitor needs, and that can be further personalised following specific requests. The facility will welcome groups as disparate as school parties, keen to find out more about engineering right through to VIP customers and corporate clients.
The Customer Centre represents the final link in a 360° harvesting chain, with product development, engineering, testing, parts manufacturing and final assembly. This is complemented by a training centre, the commercial team for the Benelux market and now an industry leading customer facility, all at one site.
A state-of-the-art, multi-sensual tour of New Holland harvesting experience and expertise
Visitors will be encapsulated in a New Holland world that takes them on a journey of discovery through a rich past, including the first European self-propelled combine harvester right through to world-record breaking machines via clean energy and outstanding service.
Attendees will experience multimedia presentations courtesy of a fully equipped auditorium and the showroom plays host to 17 cutting edge products. Visitors can browse an extensive merchandise collection in the on-site shop.
Key customers will also have the opportunity to meet with New Holland Brand experts or conduct commercial discussions in dedicated areas. A distinctly New Holland styled lounge area can welcome groups of between 12-15 customers.
In short, the whole experience is reminiscent of attending a permanent show stand, with a multitude of interactive and multimedia displays. Future planned developments include the opening of a technological zone, which will explain the inner workings of these award-winning machines and the Benelux market's commercial team also took up residence at the end of 2012.
Every visit culminates with a guided tour of the manufacturing facility, and visitors experience first-hand how their flagship harvesting machines are produced in an impressive World Class Manufacturing plant.
Investing in the future of harvesting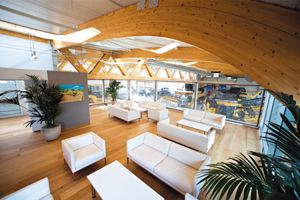 New Holland are investing in the future of harvesting at Zedelgem, which is home to the flagship CR rotary and CX conventional combines together with the BigBaler series of large square balers and the FR range of self-propelled forage harvesters.
"This investment is testament to New Holland's commitment to agriculture both in Europe and across the globe." Stated Franco Fusignani, Head of New Holland Agriculture. "We continually strive to improve not only our machines, but also our relationship with current and future customers through an extensive contact programme of visits and targeted initiatives with farmers and contractors from all over the world."
Plant Manager, Niek Vanwynghene concluded "Zedelgem is much more than a manufacturing facility: it is a concentration of expertise in the design, development and manufacture of harvesting equipment. Furthermore, New Holland employs over 2,500 people in Zedelgem, making it one of the region's key employers, and a centre of engineering excellence in Belgium."
New Holland is imported in New Zealand by C B Norwood Distributors Ltd.