New Holland Has Introduced The Next Generation BigBaler With Increased Capacity And Density for Productivity and Profitability Boosting Performances
---
Up to 20% capacity increase and up to 5% denser bales for improved productivity

All-new MaxiSweep™ pick-up performance for improved feeding

Variety of crop processing options for tailored crop management

Best-in-class SmartFill™ feed indicator system ensures uniformly dense and well-shaped bales

Plunger speed increased to 48 strokes/minute for faster crop throughput

Distinctive styling enhances serviceability and safety

Improved knotter shielding and impressive cleaning performance increase bale productivity

IntelliView™ IV colour touchscreen monitor for wide-screen baler managemen

Improved lighting package and operator comfort boosting performance

Efficient road transport and ultimate in-field manoeuvrability

PLM bale data management

TwinCutter™ front chopper for a uniform fine chop
New Holland has launched the next generation BigBaler range which has set a new benchmark in the professional baling segment. Up to 20% capacity increases and up to 5% denser bales will significantly improve productivity and profitability. Cutting edge features such as the all-new MaxiSweep™ pick-up and enhanced pre-compression chamber crop flow monitoring have been combined with renowned industry firsts including advanced CropID™ systems and proven features in the form of Double Knot technology to offer professional hay and forage operations, straw contractors and large scale arable farmers unsurpassed baling performance.
The four model range produces bales from 80x70cm to 120x90cm. Crop-to-crop flexibility has been engineered by design, and the BigBaler guarantees performance in conventional crops, as well as in non-traditional crops such as sugar cane and maize stover, perfect for the burgeoning biomass sector.


"Today's BigBaler range is the culmination of over 25 years of baling excellence, and represents the flagship baler in our extensive baler offering" stated Greg Moore, New Holland Product Specialist. "The BigBaler is built at the Centre of Harvesting Excellence in Zedelgem, Belgium, and has been engineered by design to meet the stringent quality, productivity and reliability requirements of modern baling businesses. Over 200,000 bales, equivalent to ten seasons' output, were produced before even the first production BigBaler rolled off the line."


He concluded. "The prototype models spent two harvesting seasons, and baled approximately 20,000 bales, in New Zealand in a variety of crop types and conditions and performed exceptionally well, and are perfectly engineered for New Zealand terrain"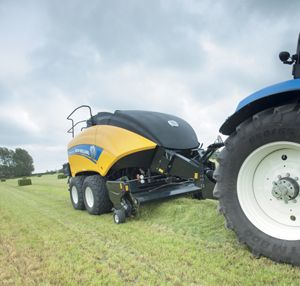 All-new MaxiSweep™ pick-up performance for improved feeding


The MaxiSweep™ pick-up has been completely redesigned to ensure that every last blade of profitable crop is safely baled. Tine strength has been significantly improved on CropCutter™ models with the adoption of 6mm coil tines as standard for increased durability when working in rough terrain and in stony fields.


The roller wind guard ensures smooth crop flow from the swath to the baler and it prevents crop flow disturbance for uniform bale production. Swath transfer has been further enhanced by the sculpted pick-up side shields. Their distinctive 'S' shape design draws all crops in, even when negotiating tight corners and smoothly feeds snagged crop into the pick-up. The pick-up edge now features crop guides to assist the final tine in collecting every blade of crop. The new powered feed assist roll is situated behind the roller wind guard and features a system of two overshot and one undershot counter rotating augers that transfer the crop from the pick-up to the rotor or packer feeder, depending on the model, whilst simultaneously merging the flow of the crop to ensure that it matches the exact width of the feeder. The feed assist roller then positively directs the condensed crop flow into the feeder for increased, constant feeding.


Variety of crop processing options for tailored crop management


The BigBaler offers three crop processing systems. The standard Packer features two packer forks with six single tines each for 870 and 890 models, and three packer forks with nine single tines each for 1270 and 1290 models. This traditional technology directly feeds the crop into the pre-compression chamber for long, unbroken straw or hay, perfect for equine businesses.


The Packer Cutter variant, available on BigBaler 870 and 890 models, has three double-tine packer forks with six removable knives. This option offers the ultimate in crop processing flexibility, and enables contractors to tailor bale production to individual customer requirements.
The densest bales are produced by CropCutter™ models. The 'W' pattern rotor is specifically designed for each baler and offers a configurable chop length. It also features a removable knife drawer for easy maintenance. The BigBaler 870 and 890 models are specified with 19 knives in short cut guise, and the BigBaler 1270 and 1290 come with 29 knives. These knives can be individually regulated to fine tune the chop length: the short cut option shreds crop to a mere 4cm in length.


Best-in-class feed SmartFill™ indicator system ensures uniformly dense and well-shaped bales


The BigBaler's proven pre-compression chamber technology has been further enhanced by the introduction of SmartFill™ feed flow indicators. This system uses a network of sensors, situated at the entrance to the pre-compression chamber that monitors the flow of crop into the chamber to guarantee square edged bales of uniform side-to-side density. This information is displayed on the IntelliView™ IV in-cab monitor, so that the operator can see at a glance if the crop is being evenly fed, and if one-sided build up is occurring, he is immediately informed to drive either more to the left or right over the swath by large on-screen arrows.


Plunger speed increased to 48 strokes/minute for faster crop throughput


The all-new heavy duty gearbox has enabled a 14% increase in the plunger speed for higher throughput into the bale chamber which means that higher ground speed is now possible. This offers a significant productivity improvement for operations that work in moisture sensitive crops, or for those who bale in areas with unstable weather conditions. The introduction of a larger diameter, high inertia flywheel which neutralises variations in crop flow has made this possible.


Distinctive styling enhances serviceability and safety


The BigBaler benefits from distinctive New Holland styling. Characterised by flowing elegant lines that scythe through the air, this quintessentially New Holland design, fully in line with all flagship harvesting products, offers significant advantages in terms of servicing and safety.


The ultra-wide single-piece front shield opens on gas struts, an industry first. This provides unfettered access to all moving parts, as well as to the automatic greaser and oiler for swift daily maintenance for minimum downtime. The single-piece side shields use an identical opening logic, and form a hermetic seal around the twine compartment to prevent dust ingress, which improves both knotter performance and the maintenance environment.


The super flat service deck on the top of the baler has made servicing even easier, together with reducing possible areas of debris accumulation.


A unique safety system has been developed so that the front shield can only be opened when the baler is completely stationary, when the PTO has been deactivated and when the flywheel brake has been engaged. Side doors can be opened in absolute safety as they only cover the twine boxes and provide no access to any moving components.
Improved knotter shielding and impressive cleaning performance increases bale productivity


New Holland has pioneered double knot technology for over 25 years, and continual development has resulted in a segment-leading knotting performance. The upgraded knotting shields ensure that the knotter stays free from debris to prevent costly miss-ties. Furthermore, the airflow around the knotter was mapped using state-of-the art computation fluid dynamic programmes. Areas of stagnant airflow were identified, and three fans have been precision placed to automatically blow away any debris before it clogs the system.


For operations which work in most extreme conditions, an optional air blow off kit can be specified, which is supplied by the tractor's pneumatic air brakes. This automatic system, controlled via the IntelliView™ monitor, automatically directs a high speed air jet to further enhance cleaning performance.


IntelliView™ IV colour touchscreen monitor for wide-screen baler management


When baling at top speed operators must have at a glance intuitive fingertip control of all key operating parameters. The standard IntelliView™ III monitor, or the wide screen IntelliView™ IV monitor can be specified. Bale length, density and moisture content, amongst others, can be analysed and adjusted on the move. Knotter fans, automatic oil and greasing can even be controlled via the screen.
The BigBaler is also fully ISOBUS compatible for visibility enhancing, single screen technology, and offers perfect integration with tractors equipped with the SideWinder™ II armrest.


Improved lighting package and operator comfort boost performance


The redesigned lighting package optimises the spread of light around the baler and turns night into day when working late into the night to bale the crop in optimal condition. In addition, two dedicated LED work lights have been positioned on the pick-up to flood the area with light to assist the operator when working in dim or dark conditions.


The optional comfort package has been designed with professional baling operations in mind. The right hand rail on the flat service deck further enhances safety and a touch of baling luxury comes courtesy of the extra-large tool box and water tank for hand washing.


Efficient road transport and ultimate in-field manoeuvrability


The range-topping large wheel tandem axle significantly reduces ground pressure to assist in rapid crop regrowth, perfect for hay and silage operations which perform multiple cuts throughout the season. Moreover, all tyre combinations are under three metres wide for stable high speed transport between fields.


The BigBaler's already outstanding manoeuvrability has been maintained thanks to the sculpted frame design.


PLM bale data management


The BigBaler offers advanced PLM solutions, such as bale weight, which can be controlled and analysed using New Holland's award winning electronic ActiveWeigh™ on-the-go bale weighing technology, moisture content, date and time and the bale's GPS location can all be recorded.


All data for each individual bale can be downloaded using a USB stick to create precise yield and field mapping data, so that inputs can be fine-tuned to increase productivity and profitability for future seasons. The Crop ID™ system can transfer all aforementioned data onto a radio frequency tag which can be consulted at a later date for bale traceability.


Evolution in baler numbering


New Holland has applied its evolved numbering strategy to the BigBaler range to make its performance immediately obvious to customers. The BigBaler name is the natural progression of the current 'BB' designation, making its size immediately obvious. The first one or two numbers, either '8' or '12' represent the bale width in centimetres, '8' for 80cm and '12' for 120cm. The final two digits refer to the bale height in centimetres, either '70' or '90'.
| | | | | |
| --- | --- | --- | --- | --- |
| Model | Bale Width (cm) | Bale Height (cm) | Plunger Speed (strokes/minute) | Processing Options |
| BigBaler 870 | 80 | 70 | 48 | Standard / Packer Cutter / CropCutter |
| BigBaler 890 | 80 | 90 | 48 | Standard / Packer Cutter / CropCutter |
| BigBaler 1270 | 120 | 70 | 48 | Standard / CropCutter |
| BigBaler 1290 | 120 | 90 | 48 | Standard / CropCutter |

New Holland is imported in New Zealand by C B Norwood Distributors Ltd.