New CR Combine: Up to 15% Higher Capacity and Improved Grain Quality and Productivity
---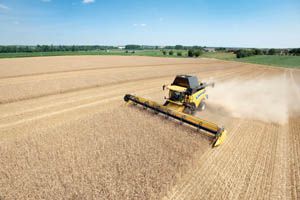 New Holland's range of Twin Rotor® CR combines have been further upgraded to deliver superb productivity in already benchmark harvesting performance. The CR range's industry-leading grain and straw quality is now complemented by an impressive capacity increase of up to 15%, and enhanced operating flexibility in all crops.
"The latest CR upgrades are testament to our unceasing quest to improve the harvesting productivity of the world's professional farmers and combine harvesters," stated New Holland Product Specialist Greg Moore. "The Dynamic Feed Roll, part of the Dynamic Stone Protection system, has improved capacity by up to 15%, and the largest grain tanks in the segment significantly enhance harvesting productivity."
Dynamic Feed Roll: improves capacity by up to 15%
Dynamic Stone Protection utilises a Dynamic Feed Roll, located within the feeder housing, to simultaneously speed up the crop for smoother, streamlined feeding, and automatically directs stones into a dedicated trap. The Dynamic Feed Roll, available on all models, improves feeder performance by up to 10% thanks to greater throughput. Furthermore, this on-the-go system means you can keep harvesting on stony ground without the need to stop.
New high-intensity light package for true, around the clock harvesting
New Holland has introduced its most complete lighting package on the CR range, simultaneously improving the spread of light to the front of the combine by up to 55%. Featuring four HID work lamps, mounted under the cab roof, the full width of the header is fully illuminated during work. A fifth HID light has been installed on the left wing mirror strut, and illuminates the field ahead, enabling operators to pre-empt changes in terrain or crop conditions.
Two halogen lamps are mounted to the rear shield, and cast a broad spread of light to enable operators to monitor residue distribution or straw flow from the rear of the combine. Two additional lamps are positioned to illuminate the area around rear steering wheels, to prevent operators inadvertently driving over standing crop or valuable straw.
Operator comfort has been further enhanced courtesy of the upgraded seat with deep cushions and extended fore-after adjustment to ensure operators are comfortable during long-hour harvest days. The optional, heated full-leather seat offers a luxurious touch for the most demanding customers.
Second generation cleaning shoe: up to 8% higher capacity in corn
The cleaning shoe on CR9080 and CR9090 models delivers up to 8% higher performance in high yielding maize. The cleaning shoe now features a larger diameter clean grain cross auger to speed the transition of grain into the elevator. This allows for improved air distribution across the cleaning shoe and leads to increased capacity.
Wider tyre offering: reduced compaction and enhanced traction
The entire CR range is compatible with extra tall, large diameter 900/75/R32 tyres. These tyres offer a significantly larger footprint, when compared to traditional flotation tyres, to significantly reduce yield-impacting compaction and enhance traction in demanding conditions.
The entire range is also compatible with 900/60/R38 Michelin Cerexbib specialist combine tyres, and tests have shown, when combined with the CR's optimal weight distribution, in-field compaction rates have been reduced by up to 35% when compared with standard tyres.
Model

Class

Rotor type

Maximum harvesting power
(kW/hp[CV]) ECE R120

Grain tank
capacity

Cleaning area under
wind control

CR8070

6

17"

330 kW / 449 hp[CV]

9,500 l

5.40 m2

CR8080

7

17"

360 kW / 490 hp[CV]

11,500 l

5.40 m2

CR9070

8

17"

360 kW / 490 hp[CV]

11,500 l

6.54 m2

CR9080

8

22"

380 kW / 517 hp[CV]

11,500 l

6.54 m2

CR9090

9

22"

420 kW / 571 hp[CV]

12,500 l

6.54 m2

New Holland is imported in New Zealand by C B Norwood Distributors Ltd.