New Holland Launches The All New T4 Range. More Power. More Features
---
New Holland has completely redesigned and upgraded the T4 range, which now features three higher horsepower premium tractors which will replace the existing T4000 and the entry-level models of the T5000 ranges. This tailored offering produces between 86 - 107 horsepower and benefits from state-of-the-art Common Rail technology with an efficient Cooled Exhaust Gas Recirculation system for Tier 4A compliance.
Advanced features include optional electronic draft control and Dual Command™ transmissions, and together with the deluxe VisionView™ cab and distinctive, eye-catching New Holland styling, the universal appeal of this range has been further extended.
The four model range, which was conceived with loaders in mind, produces between 84-114hp and delivers maximum torque of 457Nm. "In the competitive livestock and mixed farming segments, farmers are demanding increased levels of operational flexibility and comfort." Stated Kyle Baxter, New Holland NZ Operations Manager for C B Norwood Distributors Ltd. "That is why we introduced the Dual Command™ transmission with Creeper alongside New Holland's renowned SuperSteer™ front axle."
Segment-leading deluxe VisionView™ cab: outstanding operator comfort and unsurpassed visibility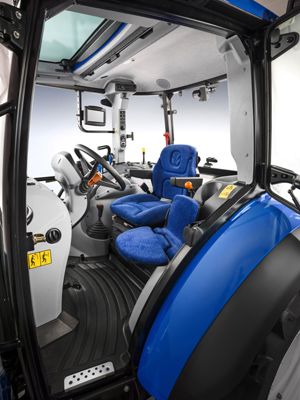 New Holland knows that operator comfort is a prerequisite for optimum productivity, especially during long and demanding days. The deluxe VisionView™ cab, also available on the T5 range, was designed around the operator using advanced virtual reality techniques to offer unparalleled ergonomic excellence. The spacious interior is a full 20% larger than its predecessor, for even more comfortable operation. All controls fall perfectly to hand for operators of all shapes and sizes. The principal controls, including the electronic draft control (EDC) mouse, and hydraulic remote levers, amongst others, have been placed to the right of the operator in an ergonomic 'Command Arc' to reduce fatigue and increase precision.
A dedicated foot pedal to infinitely adjust the position of the steering column and integrated instrument cluster is located at the base of the column, which enables precision placement whilst in the actual driving position.
The curved opening rear side glasses offer a clear line of sight for rear-mounted off-set mowers; comfortable visibility is further assisted by the 15° of seat swivel. The repositioned exhaust muffler, now in line with the A-pillar, significantly enhances visibility with a perfect view of the inner tyre wall, ideal when working in narrow row-crop applications.
An all-new dual zone air conditioning system features 10 individually positionable vents, which all deliver even flow thanks to dual-zone technology for optimal total-body comfort. The B-pillar mounted controls fall perfect to hand, and can be intuitively adjusted whilst on the move.
The deluxe VisionView™ cab has been designed with traditional livestock operations in mind, with an overall height as low as 2559 mm (with 420/85R30), enabling the T4 full access to even the lowest sheds.
Transmission offering: Dual Command™ transmission with Creeper
New Holland's acclaimed 24x24 Dual Command™ transmission, standard on cab and ROPS models, can also be specified with a Creeper option. This transmission is ergonomically engaged via a dedicated lever in the cab, the creeper function is perfect for vegetable growers or speciality operations, and delivers speeds as low as 130 metres/hour. This is in addition to the Dual Command™ transmission's standard performance, which enables operators to shift between eight speeds in the three main ranges without the need to depress the clutch pedal. Furthermore, the Hi-Low splitter full load powershift, which is engaged on the move, reduces forward speed by 15% and increases available torque by 18%.
An ergonomic Power Clutch button is located on the rear of the gear shift lever and means operators can change gear without depressing the foot clutch, perfect when working in uneven, cultivated fields. The electro-hydraulic, column-mounted Power Shuttle offers effortless, fingertip shuttling.
Adjustable shuttle sensitivity: regulated direction control
Three aggressiveness-settings for the ergonomic column mounted Power Shuttle can be swiftly and easily regulated via a dedicated button on the left hand 'B' pillar. The soft setting is perfect for field activities such as baling, medium for standard work and the highly sensitive setting has been specifically designed to offer near-instantaneous direction changes.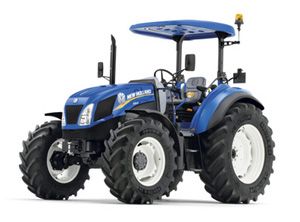 Powerful Tier 4A compliant engines for outstanding productivity and efficiency
T4 models are fitted with the 3.4 litre, Common Rail F5C engine, developed in partnership with FPT Industrial, and benefit from state-of-the-art Cooled Exhaust Gas Recirculation technology (CEGR) for Tier 4A compliance. This is in full alignment with New Holland's T4A roadmap: due to their reduced cooling demands, machines producing under 120hp are fitted with CEGR technology. These engines deliver between 84 – 114hp and offer outstanding transient response thanks to the precision fuelling technology of the Common Rail engines. Productivity in demanding conditions is further enhanced with maximum torque of up to 457Nm and up to an impressive 35% torque rise.
This engine has been specifically designed for agricultural operations, and sustained maximum power is available through the range from 1900-2300rpm, the most common operating band, to deliver outstanding flexibility in the majority of tasks. Furthermore, all engines are compliant with B20, 20% biodiesel.
Powerful hydraulic packages: up to 100 litres/minute of flow
New Holland knows that a one size fits all hydraulic offering is not suitable for these models. Farmers that carry out the most demanding hydraulic applications, such as bale wrapping will appreciate the MegaFlow variant fitted as standard, which boasts 100 litre/minute of flow, with a dedicated 64 litre/minutes of hydraulic flow explicitly for the main pump to ensure uniform performance in even the most demanding conditions. Furthermore, a 36 litre/minute services pump ensures steering remains light and responsive even during intensive rear linkage work. Up to three rear, and two mid-mount hydraulic remote valves can be specified, which are all controlled from the comfort of the cab.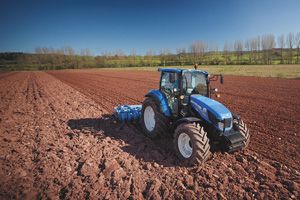 Rear lift capacity has been significantly enhanced, with maximum lift capacity of up to 3884kg. Traditional operations will opt for the award-winning Lift-O-Matic™ Plus, mechanical draft control, system, which enables operators to return an implement to a pre-set working depth courtesy of an ergonomic lever and constantly adjust the depth thanks to the same lever situated on the Command Arc. Electronic draft control is the default choice on cab models. The ergonomic mouse offers fingertip control of all key parameters including draft and depth control.
Module front linkage and PTO: enhanced operating flexibility
New Holland knows that in order to remain competitive in a highly dynamic market place, farmers prize operating flexibility. Available on all cab models, the T4 front linkage has been engineered by design to respond to this requirement. Available in three different configurations: fabricated front linkage only with a maximum lift capacity of 1850 kg, front PTO only and the modular chassis integrated, casted front linkage and PTO variant, operations can specify a tractor to suit their individual needs. Moreover, if a change of business focus was to occur, all options can be easily retrofitted by authorised New Holland dealers.
Flexible tyre offering: maximum tyre size of 540/65 R34
A vast tyre offering will enable farmers to specify their T4 to suit their individual needs, whether by fitting 12.4 R36 row crop tyres to protect high value salad vegetables, or the very largest 540/65 R34 for increased traction and reduced infield compaction.
Rugged ROPS option: comfortable and safe operating environment with optional FOPS protection canopy
Operations that require traditional, rugged productivity will select the ROPS variant. All configurations, except those fitted with a Dual Command™ transmission, can be specified in this format, which can be further enhanced with a fully FOPS (Fall on Protection System) compliant canopy. The foldable ROPS is the perfect choice for operations with the lowest shed doors.
Operators will benefit from the same operating environment and ergonomic layout as cabbed models. ROPS variants have been further enhanced by the addition of hardwearing, weather resistant materials to ensure ultimate durability in even the harshest operating environments.
| | | | |
| --- | --- | --- | --- |
| Model | Maximum power | Maximum Torque | Maximum Lift Capacity |
| T4.85 | 86 hp[CV] | 351 Nm | 3884 kg |
| T4.95 | 99 hp[CV] | 407 Nm | 3884 kg |
| T4.105 | 107 hp[CV] | 444 Nm | 3884 kg |
| T4.115 | 114 hp[CV] | 457 Nm | 3884 kg |
These new models will be available from summer 2014 onwards in New Zealand, secure your new T4 Series today.
New Holland is imported in New Zealand by C B Norwood Distributors Ltd.