Brochard Constructeur set the World Record of manure spreading powered by the most powerful
New Holland Agriculture T9 tractor on 31st July – 1st August 2014 in Ukraine
with the cooperation of LLC "Alfagro".
---
New Holland Ukraine and Moldova and its partner LLC "Alfagro", official dealer of Brochard Constructeur, set a new Manure Spreading World Record on 31st July – 1st August 2014 spreading 4217 tonnes over 221.80 hectares in 24 hours. The powerful New Holland T9.615 tractor with the Brochard manure spreader reached this record. "Of course we need good equipment to perform world records, but we also need good specialists. This has been a great human experience that involved many professionals with different areas of expertise. All the people involved, both working for New Holland and those who helped us, made the difference. I thank them all!" – explains Antoine Rebillard, Business Director New Holland Agriculture in Ukraine, Moldova and Baltics.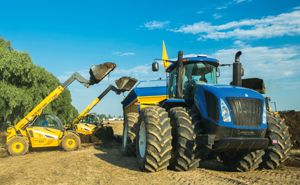 Brochard Constructeur provided the biggest spreader in the world with a capacity of 50 tons, although it was loaded with 65 tons for the World Record. It was designed especially for this event and painted in the New Holland livery. Alain Bellion, chairman of Brochard Constructeur SAS commented: "I am very proud of our World Record. I have been developing the company Brochard Constructeur for the past ten years, during which time I have tried to design increasingly larger and stronger products for agricultural professionals. New Holland Agriculture is clearly following a similar direction with its T9.615. I want to thank them for their continuous support!"
In the field there were also other pieces of agricultural equipment: a New Holland LM 732 telehandler (bucket 2, 5m3) and a W190 wheel loader (bucket 3, 2m3). Gerard de la Salle, chairman "GROUPE ALFAGRO SARL", Dealer Brochard in CIS countries stated: "In the activities to set this World Record New Holland and Brochard Constructeur have shown us that their product lines have equipment that is particularly well suited to the CIS countries and deliver what farmers in this area need: power and strength. The record will enable us to highlight these important qualities and participate in the development of these brands in the eastern plains."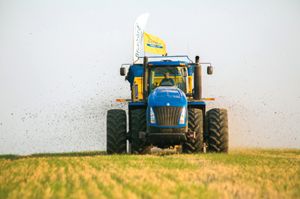 The event took place in the village of VelykyyZliyiv, Chernigiv oblast, Ukraine, where "Industrial Milk Company" ("IMC") provided the field of 300 hectares. IMC is one of the many loyal customers of New Holland in Ukraine and owns a large fleet of New Holland equipment: 21 CR9080 combines, 10 T8.390 and three T9.615 tractors. Alex Lissitsa, CEO of IMC commented on the partnership with New Holland Ukraine and Moldova: "Before we start doing business with a new company-partner, we pay attention to the company's history and background. As a loyal customer of New Holland, I would like to outline that New Holland's approach, its team and its equipment are the result of a long history, and this makes a difference for us. Setting a World Record makes history, and we are really pleased to be part of it together with New Holland!"
Thorough preparation for the event took one week. The team consisted of around 30 people: 17 from New Holland and nine from Alfagro. They included sales people, as well as members of the Marketing, PLM and Service teams.
Two French drivers took turns at the wheel of the T9 every six hours. Bastien Roy: "I started up spreaders for Brochard Constructeur around the world: Egypt, Ukraine, Estonia, Kazakhstan, Kuwait ... This new achievement is a further proof of Brochard Constructeur's technological leadership. And what a pleasure it was for me to operate this spreader driving the newest New Holland T9.615!"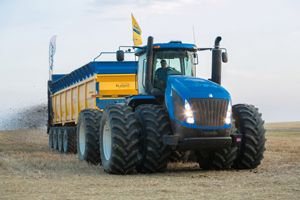 The Official Adjudicator, Eva Norroy (UK), from Guinness World Records Organization officially stated the record of 4217 tonnes of manure spread, 221.80 hectares and 24 hours. She was impressed by the whole experience: "I found this event spectacular. Two things impressed me in particular: the first was the technological aspect, as I had never seen such high-technology farming machines; the second was the cohesion of the team. The French-Ukrainian team worked tirelessly and, even though they sometimes could not speak the same language, the collaboration seemed effortless."
New Holland is imported in New Zealand by C B Norwood Distributors Ltd.